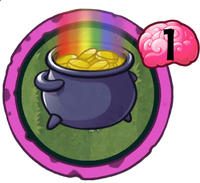 Pot of Gold

Statistics
Strength
Health
Cost
-
-
1
Set
Token
Class
Tribe
Trick
Abilities
Draw 3 cards.
The luck of the Zombies!
Pot of Gold is an event token zombie trick card in Plants vs. Zombies Heroes, and a member of the

Brainy class. It is obtained as a card from Leprechaun Imp, but can also be obtained as a card from Eureka or Mad Chemist. It costs 1

to play, and its ability gives the zombie hero 3 cards.
Statistics
Class: Brainy
Tribe: Trick
Ability: Draw 3 cards.
Set: Token
Card description
The luck of the Zombies!
Strategies
With
This card is a much stronger version of Fun-Dead Raiser (3 cards for 1

compared to 2 cards for 3

) and Telepathy (being usable more than once and drawing more cards for the same cost). However, it is a token card and can only be obtained consistently from Leprechaun Imp, or rarely through Mad Chemist's ability or Eureka. You should use this card to either early game to get a huge card advantage over your opponent or late game when you have almost no cards left to keep yourself in the fight.
However, keep in mind that you cannot block when you have 10 cards in your hand, so it is best to not play this card if you have at least 8 cards in your hand and you are in danger of taking high damage. Certain missions with special gimmicks that involve drawing or Conjuring extra cards, like Peel that Orange!'s boss battle, can get you into this situation much more frequently, so remember to keep count of the cards in your hand.
If you are Rustbolt, you can use Zombology Teacher to help draw three cards from your deck for free, as long as she stays on the field.
Against
You can make use of Sportacus and Black-Eyed Pea to help deter your opponent. However, for the latter, you need to be careful of Rocket Science, as your opponent can purposefully boost Black-Eyed Pea to destroy it with Rocket Science. Also, against less experienced opponents, you can trick them into overdrawing, thus being unable to block and allowing huge damage that would otherwise be negated.
Gallery
Trivia
It, Triplication, and Eureka are the only cards that give exactly three cards.

Coincidentally, they are all zombie tricks and are in the Brainy class.

Its description references the famous quote "Luck of the Irish."

It also references the Luck o' the Zombie event in Plants vs. Zombies 2, the event that it is based on.
See also