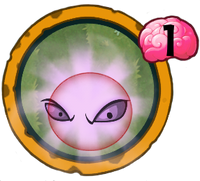 Possessed is a super-rare zombie superpower trick card in Plants vs. Zombies Heroes, and a member of the

Hearty class. It costs 1

to play, and its ability gives a selected zombie +2

and the

Frenzy trait.
Origins
It is based on the real meaning of possessed, a state of something being in control by something else, unwillingly in most situations.
Statistics
Class: Hearty
Tribe: Superpower Trick
Ability: A Zombie gets +2 and Frenzy.
Rarity: Super-Rare
Card description
There's nothing like a good possession to perk a Zombie up.
Update history
Update 1.2.12
Update 1.4.14
Removed from Z-Mech's superpower set, replaced with Rock Wall.
Added to The Smash's superpower set, replacing Rock Wall.
Strategies
With
This can be used on most zombies to get good results. Since this trick does not give any strength, it is more suitable to a zombie with high strength, but with low health, instead of the exact opposite. Its ability is less useful to a zombie that already has

Frenzy. Good zombies to use this on are Arm Wrestler, Swashbuckler Zombie, Snorkel Zombie, Overstuffed Zombie, and much more. Neptuna can also use this on zombies with the
Deadly trait to plow through almost any plant as long as it survives. If Pecanolith is on the field, you can use this trick to get a little more damage out of said zombie.
Against
This card can be countered easily by

Smarty heroes, since they can just Bounce the zombie that was affected by this card, virtually rendering it useless in the end. However, since this is a trick, they will have to wait for the next turn to do so. An exception is if the zombie hero blocks during the Plants Play phase, since Re-Peat Moss and certain other plants can do that. However, only Green Shadow can combine bonus attacks with Bouncing.
As for other strategies, try to keep your plants high in health so that the selected zombie with the

Frenzy trait doesn't plow through them. Be careful against Neptuna, however, as she can use this card on zombies with the
Deadly trait, which can destroy your plants very quickly.
Gallery
Old