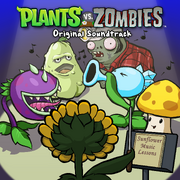 Plants vs. Zombies Original Soundtrack is an album released by Laura Shigihara consisting of the music she composed for the game. It is available for sale on her Bandcamp page for US $1.00 for individual tracks or US $10.00 for the entire album.
Track Listing
Cover art
The cover art was designed by George Fan for the soundtrack. Laura Shigihara thought, "It would be cool if the Sunflower decided to teach music lessons and Digger Zombie joined the class, too (he has a softer side, you know, if you couldn't tell from his penchant for pink tricycles)."
Sunflower, Chomper, Squash, Digger Zombie, Snow Pea, and Sun-shroom appear on the cover art, with Sunflower giving music lessons to the others.
See also
Music

Music · Plants vs. Zombies Original Soundtrack

Videos
Others
Ad blocker interference detected!
Wikia is a free-to-use site that makes money from advertising. We have a modified experience for viewers using ad blockers

Wikia is not accessible if you've made further modifications. Remove the custom ad blocker rule(s) and the page will load as expected.