Plants vs. Zombies Nintendo DSiWare

Art from the download page at the DSi shop.

Developer:

Genre:

Platform:

Nintendo DSiWare

Release date:

March 14, 2011

Sub-version of:
Plants vs. Zombies Nintendo DSiWare was released on March 14, 2011.
While the DSiWare version retains much of the content of the DS version, some notable changes were made. Versus Mode, Puzzle Mode, and Survival Mode were removed, as well as the mini-games Homerun Derby, BOMB All Together! and Air Raid. The Zombatar was also removed, despite the Download Page Summary claiming it has it. The DSi Port also has an exclusive new mini-game known as Zombie Trap. The Zen Garden was taken out, and so an adjustment is made in level 5-4: the player will find Greasy Bacon instead of the Watering Can, which can be sold to Crazy Dave for $1000 (similar to the Magic Taco).
Trailer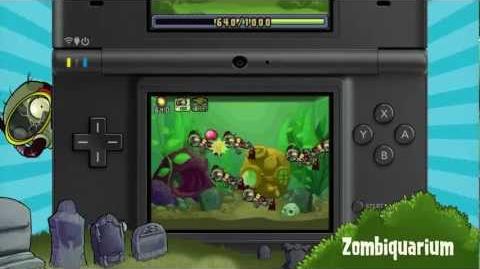 Trivia
The cover shows a Zomboni without the Zamboni or the beanie.
Unlike the Nintendo DS version, the DSiWare icon is animated.

This animation, however, is not overly detailed. All that happens is the zombie hand moving the flower up and down slightly, and it is only four frames long.

Unlike other versions, this does not feature Survival Mode.
The music for the trailer is a remix of Zombies on Your Lawn.
The Nintendo DS and DSiWare version have a slower gameplay than the other versions.