For a similar page regarding Plants vs. Zombies 2, see Plants vs. Zombies 2/Concepts.
For a upcoming content, see Plants vs. Zombies Heroes/Upcoming content.
This page lists unused content and concept art for the game Plants vs. Zombies Heroes. It should be noted that these descriptions are not fabricated but are primarily found in various versions of the game's code. Additionally, one should note that some of these "scrapped" features might be reintroduced to the game in the future.
Concept art
Plants vs. Zombies Heroes started development in 2014 and concept art exists from the game's earliest stages.
In addition to these images, a video exists on Vimeo showing the game's earliest animations. Some of the art style seems based on Plants vs. Zombies Adventures.
Game of Plants
The Game of Plants (based on Game of Thrones) is mentioned a few times in the code. It is possibly an event or a future mission. Some unused descriptions like "Winter is coming," "Summer is coming" and "Mekka Lekka Hi-Mekka Hiney BRAINS!" might be related to this. Additionally, two unknown heroes are mentioned—Crime Biter and Professor Von Bats (possibly Chompzilla and Professor Brainstorm).
Internal names
The game sometimes uses different names for the heroes in the code than in the actual game.
Additionally, the classes Crazy and Beastly are code-named madcap and hungry, respectively. The cards Muscle Sprout, Punish-Shroom and Backyard Bounce also have alternative names—Muscle Brussel, Spore Shooter and Trampoline Party.
Seasons in Ranked Mode
The game contains lines of code related to seasons in ranked mode, a feature which is present in many multiplayer games.
Build your Season 1 Rank as high as you can! Seasons run for several months. Follow your progress as you climb the Ranks in each new Season!
Plants
Zombies
Unknown
It is unknown whether these are plant or zombie cards. Some may also be the removed "no class" cards.
BetaCarrot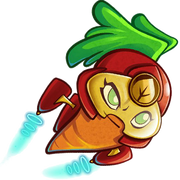 BetaCarrot was going to be the first three-classed hero, that would have contained the Solar, Mega-Grow, and Guardian classes. Its signature power was to revive a plant (Similar to Intensive Carrot) and it would gain +1

/+1
. It was later scrapped for unknown reasons.
Old designs
The Shamrocket was redesigned before it was released. In particular, it was going to look a lot more mechanical and less like a pinecone.
Ad blocker interference detected!
Wikia is a free-to-use site that makes money from advertising. We have a modified experience for viewers using ad blockers

Wikia is not accessible if you've made further modifications. Remove the custom ad blocker rule(s) and the page will load as expected.