For the main versions on iOS and Android, see Plants vs. Zombies iOS and Plants vs. Zombies (Android) respectively.
Plants vs. Zombies FREE (now known just simply as Plants vs. Zombies since November 3, 2017) is a version of Plants vs. Zombies for iOS and Android. It is essentially the same as the paid versions, except with more ads (and an in-app purchase to remove them, but it can be easily worked around by just turning off the Wi-Fi/Cellular Data on your device) and a lot more bugs. Also, unlike the paid version, the iPhone version also includes Survival Mode, which makes this the first time Survival Mode has ever been playable on iPhone.
Game icons
Bugs and differences
This version includes many differences, and a large amount of bugs.
All versions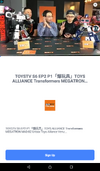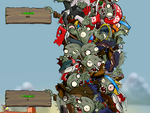 There are many more ads in this version to make up for it not costing money. Pop-up ads appear in-between and when starting levels, and there are banner ads on the main menu.

On the iPad version there are square ads on the screen when receiving a plant or item as well.
There is an in-app purchase to remove all ads from the game that costs $2.99. While buying the paid version is cheaper than this, the paid version has one pop-up ad when starting the app, does not have Survival Mode if using an iPhone, and the player will have to restart their progress, so it may be a better deal.

When the player does not have enough coins to buy an item, if they tap "Get More Coins", it will take them to the ad removal in-app purchase instead.
"The Zombies are coming" chime is sometimes absent.

When the chime does play, sometimes it is just played halfway through. Instead of "The Zombies are coming", it says "The Zombies a".

There are sometimes two or more signs for the player on the Zombies Killed pile, one always stays at the bottom and reads 0.
The Leaderboard names are written in all caps, without spaces, and sometimes missing words altogether.

There are also no icons for the leaderboards.

The Peking Express achievement does not show up in Game Center. However, the leaderboard does.
The Zombies on Your Lawn music video is missing.
When updating to version 1.9, the player's Zen Garden progress and Zombies Killed pile will be reset, and all Survival levels will become locked, including the default level (Survival: Day).
iPhone and iPod Touch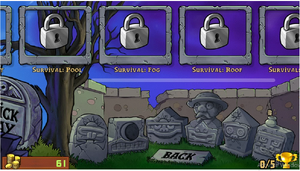 Survival Mode is available in this version.

The Survival: Endless leaderboard is missing, most likely since the paid version does not have Survival mode.

There are many glitches with the menu animations.
The Achievements statue is misplaced, so it appears to be floating.
The Popcorn Party achievement is missing.
When the Survival levels are locked, they are missing the yellow backgrounds, and are transparent instead.
iPad

Android
You cannot buy most things in the Zen Garden.
Most "chimes" such as the Flag chime are cut in half if any other sound plays while they are playing.
The music that is supposed to play when the player gets a new plant that is absent most of the time when a new plant is picked up.
Fixed bugs
Despite adding a ton of bugs, Plants vs. Zombies FREE also fixed some from the paid versions.
The Zen Garden animations are no longer buggy on the iPad version (this was since fixed in the paid version as well).
Playing on iOS 9 will not allow text to change to "<MISSING>" (this was since fixed in the paid version as well).
Before version 1.9, coins had different values in this version. They were all 10% of their previous values, meaning a gold coin, which is normally worth 50 coins, was now worth 5.

There was an oversight in which the 200,000 coins players usually start with in the iOS versions was not adjusted, therefore the player starts the game with enough coins to purchase every item in the game at least once, and a lot more left over to purchase expendable items again. As a result, there was no reason to work to collect coins in this version at all.
The Coin Packs purchasable in the iOS and Android versions were also not adjusted, meaning that even if the above issue was not in existence, the smallest coin pack would be enough coins to buy everything as well.
These issues have been corrected in version 1.9; players start with 2000 coins and all prices and coin values are corrected to their original state from the paid versions.
Game Modes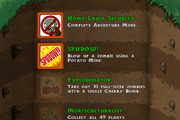 There are a total of 46 achievements (47 on the iPad version).