For upcoming content in the Chinese version, see Plants vs. Zombies 2 (Chinese version)/Upcoming content.
This page lists upcoming content for Plants vs. Zombies 2. Please note that things change over time, and that some things listed now might become scrapped later. For these reasons, the concepts page serves as an archive of past features.
Icy Currant
This plant has been found in the game's code. There is a texture for it, in which it appears to be an ice variant of Electric Currant. It is currently unknown what it does.
Gallery
Trivia
New Vasebreaker levels
Three new levels of Big Wave Beach Vasebreaker have been added to the code.
Trivia
This makes it the third world to have unused Vasebreaker levels, after Far Future and Dark Ages.
Arcade Machine
The arcade machine appears to be a new mode where the player gets to play minigames. According to the sprites, the known minigames appear to be Vasebreaker, Wall-nut Bowling or Column Like You See 'Em and a Pac-Man resembling minigame, with the head of a Chomper being Pac-Man. 8-Bit Zombie's sprites are also featured in the sprites for the Arcade Machine, suggesting that 8-Bit Zombie will be featured in some of these minigames. Bonk Choy sprites can also be seen, so it may appear in Vasebreaker mode or Column Like You See 'Em.
Trivia
The sprites that are found in the code are likely low quality to replicate 8-bit arcade systems.
The Arcade Machine is most likely based on, or is one of, the arcade machines that the Arcade Zombie pushes.
The icon of this mode will replace the icon of Vasebreaker.
The 8-bit scheme may be a reference to the nostalgia of the first game, having its original mini-games, though, the 8-bit may be an exaggeration of how long ago the first game was, giving it a retro feel.
Jukebox
There is currently data for a jukebox in the code. It is unknown how it works or where it can be played, however, it could provide a way to listen to the game's soundtrack.
Resources†ý...UI_PauseMenu..UI_DangerRoomþ, which suggests it could be played in the pause menu or Endless Zones.
It also has UI but currently has no textures.
CurrentUI..JukeboxSongListAreaƒ...CurrentUI..AlbumSnapshotƒ...CurrentUI..DurationAreaƒ...CurrentUI..CloseButtonƒ...CurrentUI..PlayButtonƒ...CurrentUI..PauseButtonƒ...CurrentUI..BackwardButtonƒ...CurrentUI..ForwardButtonƒ...CurrentUI..LoopButtonƒ...CurrentUI..ShuffleButtonþ

This suggests it has a Song List, Rewind Button, Fast Forward Button, Play Button, Loop Button, and Shuffle Button.
CurrentUI..AlbumSnapshot_beachƒ...CurrentUI..AlbumSnapshot_cowboyƒ...CurrentUI..AlbumSnapshot_darkƒ...CurrentUI..AlbumSnapshot_dinoƒ...CurrentUI..AlbumSnapshot_egyptƒ...CurrentUI..AlbumSnapshot_eightiesƒ...CurrentUI..AlbumSnapshot_futureƒ...CurrentUI..AlbumSnapshot_iceageƒ...CurrentUI..AlbumSnapshot_lostcityƒ...CurrentUI..AlbumSnapshot_menusƒ...CurrentUI..AlbumSnapshot_modernƒ...CurrentUI..AlbumSnapshot_pirateþ'.'.'.'.'.†ý...UI_Jukeboxþ'..$IMAGE_UI_JUKEBOX_JUKEBOX_ALBUM_MENUSÿÿ…'.†ý...AlbumSnapshot_beachþ

It also appears they will have album artwork for every world.
Pirate Seas additional levels
In the code, there are new levels for Pirate Seas as well as new zombies. These levels are currently confirmed as you can see blank slots in the Zombies' section of the Almanac March 15 2017 onwards. They will either come on the next update or the one after.
Barrelhead Zombie
Barrelhead Zombie's keg-like hat provides augmented protection.
Dredged from the deepest of seas, Barrelhead Zombie's barrel is a high-quality cask that fits just a but too snugly.
It will be the Pirate Seas machined zombie.
Pelican Zombie
Pelican Zombie crosses water without a plank and flies over low plants.
Special: floats over low plants
The Pelican Zombie upgraded from the Seagull Zombie and has no regrets. No egrets, either. Just a pelican.
Trivia
An egret is a type of bird.
Jolly Roger Zombie
Jolly Roger Zombie marks the arrival of lots and lots of zombies.
Jolly Roger Zombie and his flag are fused together into a single brain-munching unit. Their teamwork is an inspiration to ghouls everywhere.
Trivia
It is the only Rally Zombie so far not to have the word "rally" in it's name.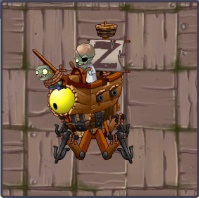 Zombot Plank Walker 2.0
The new Zombot for Pirate Seas.
It will appear on Pirate Seas Day 35.
Jurassic Marsh additional levels
Jurassic Marsh is getting new levels as well with its own new zombies. These levels are currently confirmed as you can see blank slots in the Zombies' section of the Almanac March 15 2017 onwards. The levels themselves so far are unfinished.
Amberhead Zombie
Amberhead Zombie's head-engulfing ball of amber provides hardened protection.
If you were to extract DNA from the Amberhead Zombie and combine it with the DNA of a frog, you'd be breaking the law at some point.
Trivia
The almanac entry references the movie series Jurassic Park, as in the first movie, a mosquito that bites a dinosaur gets stuck in amber, then many years later, humans found the preserved mosquito and combined the dinosaur DNA inside the mosquito with a frog/toad's and brought dinosaurs back from extinction.
Even though Jurassic Marsh has a zombie with machined protection named Jurassic Fossilhead, another zombie is made with machined protection.

This might mean that it has more health than Fossilhead, but still doesn't have enough health to not be a machined zombie.
This is most likely due to the lack of zombies with special abilities present in the world, as dinosaurs fulfill that role.
The "Sap Spawn" Surprise Attack introduced in the Far Future level additions may also allude to this zombie, as amber is created from tree sap. This zombie could possibly be spawned from this ambush only, similar to Lost Pilot Zombies.
Jurassic Rockpuncher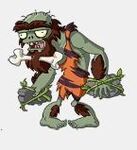 Jurassic Rockpuncher pummels plants with rocks tied to his hands.
Somebody tied rocks to Jurassic Rockpuncher's hands. Being unable to remove them (because he had rocks tied to his hands), he was left with no choice but to roll with it.
Special: Immune to Primal Peashooter's knock back.
Jurassic Rally Zombie
Jurassic Rally Zombie marks the arrival of large group of zombies.
Where did Jurassic Rally Zombie get his fancy new flag? Nobody knows. It's a mystery. The police should look into it. Or maybe we could get a fund together and hire a detective. It's a real puzzle.
Zombot Dinotronic Mechasaur 2.0
The new Zombot for Jurassic Marsh.
Future Epic Quest
100 Spikeweed Seed Packets
It is unknown when this Epic Quest will come out, but it has been spotted in the codes, not much is known about it.
Ad blocker interference detected!
Wikia is a free-to-use site that makes money from advertising. We have a modified experience for viewers using ad blockers

Wikia is not accessible if you've made further modifications. Remove the custom ad blocker rule(s) and the page will load as expected.