For upcoming content in the Chinese version, see Plants vs. Zombies 2 (Chinese version)/Upcoming content.
This page lists upcoming content for Plants vs. Zombies 2. Please note that things change over time, and that some things listed now might become scrapped later. For these reasons, the concepts page serves as an archive of past features.
Icy Currant
This plant has been found in the game's code. There is a lone texture for it, which appears to be an ice variant of Electric Currant. It is currently unknown what it does.
Gallery
New Vasebreaker levels
Three new levels of Far Future, Dark Ages, and Big Wave Beach Vasebreaker have been added to the code, though specifics are currently unknown.
Trivia
Specific to Far Future and Dark Ages Vasebreaker
The Vasebreaker levels for these worlds appeared since a very early version of Plants vs. Zombies 2.
Gallery
Videos
Jukebox
There is currently a data for the jukebox in the code. It is unknown how it works or where it can be played. However, it could provide a way to listen to the game's soundtrack.
Resources†ý...UI_PauseMenu..UI_DangerRoomþ

The code suggests that it can be played in the pause menu and Endless Zones. It also has UI but currently has no textures.
CurrentUI..JukeboxSongListAreaƒ...CurrentUI..AlbumSnapshotƒ...CurrentUI..DurationAreaƒ...CurrentUI..CloseButtonƒ...CurrentUI..PlayButtonƒ...CurrentUI..PauseButtonƒ...CurrentUI..BackwardButtonƒ...CurrentUI..ForwardButtonƒ...CurrentUI..LoopButtonƒ...CurrentUI..ShuffleButtonþ

This suggests it has a Song List, Rewind Button, Fast Forward Button, Play Button, Loop Button, and Shuffle Button.
CurrentUI..AlbumSnapshot_beachƒ...CurrentUI..AlbumSnapshot_cowboyƒ...CurrentUI..AlbumSnapshot_darkƒ...CurrentUI..AlbumSnapshot_dinoƒ...CurrentUI..AlbumSnapshot_egyptƒ...CurrentUI..AlbumSnapshot_eightiesƒ...CurrentUI..AlbumSnapshot_futureƒ...CurrentUI..AlbumSnapshot_iceageƒ...CurrentUI..AlbumSnapshot_lostcityƒ...CurrentUI..AlbumSnapshot_menusƒ...CurrentUI..AlbumSnapshot_modernƒ...CurrentUI..AlbumSnapshot_pirateþ'.'.'.'.'.†ý...UI_Jukeboxþ'..$IMAGE_UI_JUKEBOX_JUKEBOX_ALBUM_MENUSÿÿ…'.†ý...AlbumSnapshot_beachþ

It also appears they will have album artwork for every world.
Dark Ages additional levels
Dark Ages is getting 10 new levels as well with its own new zombies. As of the release of Pirate Seas Days 26-35, the player can see empty slots for these three new zombies in the Almanac. It appears that there will be a new variant of Brickhead Zombie, a Rally Zombie variant for Dark Ages and an upgraded version of Wizard Zombie.
Trivia
Dark Ages will now have two zombies with machined protection, similar to Jurassic Marsh.
Gallery
Videos

This section requires a clean-up to meet the standards of Plants vs. Zombies Wiki.
For a full list of sections requiring a clean-up, see
this page
.
Moongrains music
In the 6.0.1 OBB file, there was a new music track added. The music's melody is similar to Moongrains (the Night music in Plants vs. Zombies). It is unknown what it will be used for.
Choose Your Seeds from Plants vs. Zombies
In the 6.1.1 alpha version OBB file, there was also music added that is nearly identical to the Choose Your Seeds music in the first game, but again, with different instruments.
Trivia
This could be related to the Moongrains music above.
Solar Tomato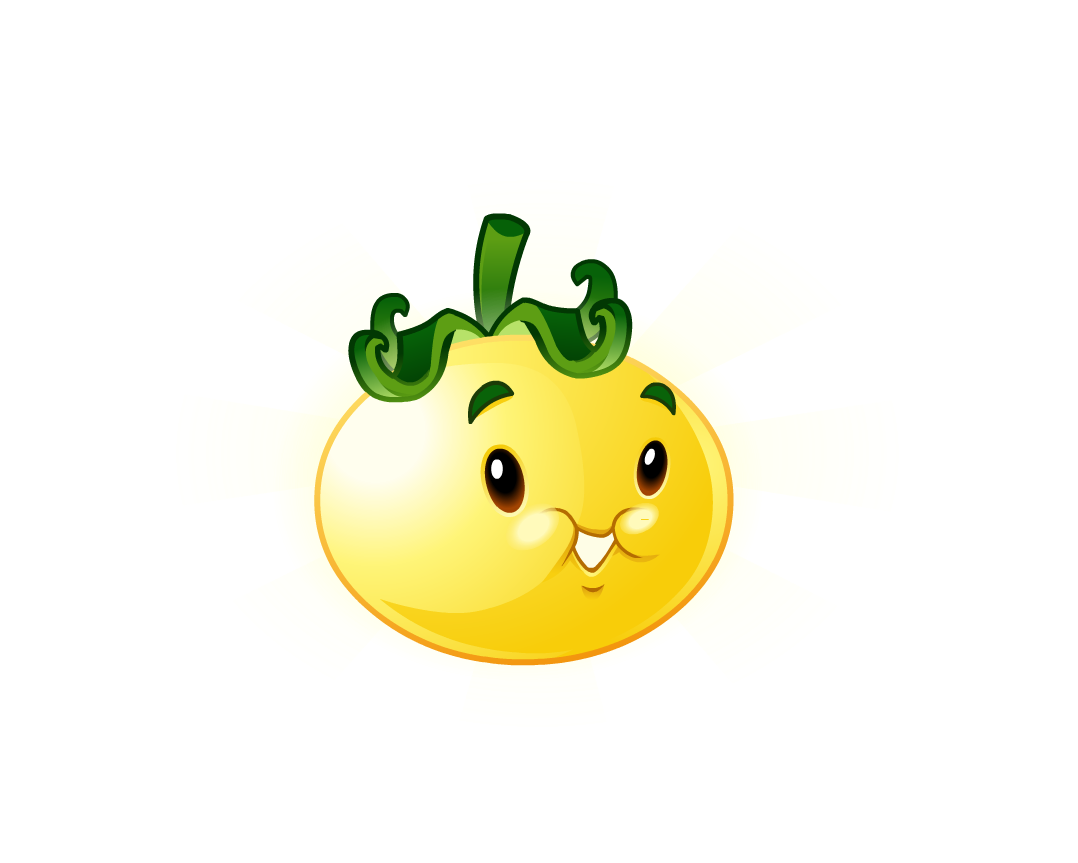 Solar Tomato is a plant found in the code in the 6.0 update. It is coming in version 6.3.
Almanac entry
Solar Tomatoes stun zombies in a 3x3 area, causing each zombie to drop 50 sun.
Solar Tomato wishes folks would just stop and enjoy the sunshine sometimes.
"Stop," she says. "Enjoy the sunshine. I said stop! Hold it right there! Don't move! I MEAN IT!!!"
Gallery
Trivia
It will be the first tomato plant in the series, not counting the unused Tomato from Plants vs. Zombies: All Stars.
Its Almanac entry is similar to Stallia, as they both talk about zombies pausing/stopping.
Holly Knight
Holly Knight is an unknown plant found in the code. It may be for Christmas as holly is often associated with Christmas.
Trivia
It would be the second holly-based plant in the series, the first being Jolly Holly.
Security Gourds
The Security Gourds are upcoming powerups.
A Security Gourd costs 10 gems to add, and is set on the lane the first zombie will go. When the zombie gets close to it, the security gourd will kill the zombie, then leave. There is also an
Epic Quest
found in the code which has 30 levels, which in each one, there are Security Gourds.
Trivia
The Security Gourds are similar to the rakes from the first game in function.
"Security Gourd" is a pun on the words "Security Guard" and "Gourd."
The Security Gourds' stems are styled like caps with a leaf as their visor.