This article is under construction and requires more content. You can help our wiki by
expanding it
.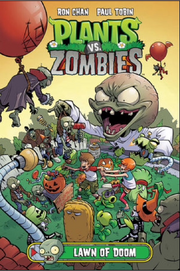 Plants vs. Zombies: Lawn of Doom is the second graphic novel about the Plants vs. Zombies series that was published on October 11th, 2017. It was available to pre-order for $9.99 on Darkhorse.com.[1] While the plot is unknown, the story is set on Halloween, and is centered around the Lawn of Doom event.
Book information
Writer: Paul Tobin
Artists: Ron Chan, Matthew J. Rainwater
Colorist: Matthew J. Rainwater
Cover Artist: Ron Chan
Genre: Action/Adventure, Humor
Number of Pages: 88
Shop description
"Halloween in Neighborville is weird enough, but now Zomboss and his zombie army want to turn the holiday into their own scarier Lawn of Doom celebration! With Zomboss filling everyone's yards with traps and special zombies, Crazy Dave, Patrice, Nate, and a batch of brave, boisterous plants fight back in contests of best tricks, best treats, and best costumes!
All-new original graphic novel!"
Preview
Note: This preview only shows the 10 first pages of the story.
Trivia
References

This article is a stub. Help us
expand it
,
or the zombies will eat your brains!