Ad blocker interference detected!
Wikia is a free-to-use site that makes money from advertising. We have a modified experience for viewers using ad blockers

Wikia is not accessible if you've made further modifications. Remove the custom ad blocker rule(s) and the page will load as expected.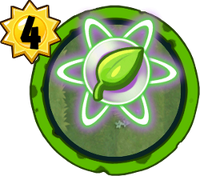 For other versions, see Plant Food (disambiguation).
Plant Food

Statistics
Strength
Health
Cost
-
-
4
Set
Premium
Rarity
Rare
Class
Tribe
Trick
Abilities
A Plant gets +1/+1 then does a Bonus Attack.
The most important meal of the day.
Plant Food is a premium rare plant trick card appearing in Plants vs. Zombies Heroes and a member of the

Mega-Grow tricks. It costs 4
to use. When played, it gives a selected plant +1
/+1

, and causes the plant to perform a bonus attack.
Statistics
Class: Mega-Grow
Tribe: Trick
Abilities: A Plant gets +1/+1 then does a Bonus Attack.
Set - Rarity: Premium - Rare
Card description
The most important meal of the day.
Strategies
With
This trick is similar to the Inspire trick, but the fact that it can make a plant do a bonus attack makes it more powerful. Using this while have a Re-Peat Moss on the lawn can make things easier because it will do two attacks. Party Thyme is also a useful plant to use with this trick, as you will gain an extra card. Using this on Venus Flytrap can allow itself to attack once more in order to heal your plant hero. While mostly ignored, the +1/+1 is very considerable at times. Using it correctly will allow certain plants to make quick work of zombies with Armored status, or maybe let your plant tank one more hit from certain zombie while being left at 1 HP.
You can also choose fighters that have at least 5
, as they can help to take away more than a quarter of the total amount of health the zombie hero has.
Against
There is not much that you will be able to do. In retaliation, bouncing the plant that was affected can work. Using

Deadly zombies as well can eliminate the threat. However, the bonus attack is the unavoidable part. The only surefire way to prevent damage is to time your block meter so that it is a guaranteed block.
Gallery
Old
Trivia