This article is under construction and requires more content. You can help our wiki by
expanding it
.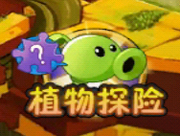 Plant Adventures is a feature that was added in the 1.6.2. version of the Chinese version of Plants vs. Zombies 2. It is another feature that aids the player on getting more puzzle pieces, along with the ability to earn certain puzzle pieces by replaying normal levels on maps. It was removed temporarily in the 1.8.0. version, but returned in version 1.9.0.
This feature allows the player to send five of their unlocked plants on a "quest" to earn a Puzzle Piece and 2000 coins at the same time. It is possible to choose the puzzle piece which will be earned, but each one has an timer associated that needs to be fulfilled to obtain it.
While choosing, the player has to fulfill a certain request where one of the chosen plants match one of their characteristics, for example, bring a green colored plant. The plants characteristics can be found on their Almanac entry.
After the plants have finished their "quest", they have a cooldown of an hour until they can be sent again. The "quest" can instantly be skipped by paying gems, or it can be canceled for free.
The system requires internet connection to be accessed.
Characteristics
Colors
Yellow
Green
Brown
Blue
Red
Families
Abilities
Plants Appeared in adventures
Ancient Egypt: Cabbage pult, Peashooter, Sun flower
Pirate Seas: Kernel pult, Spring bean
Wild West: Split pea, chili bean, lightning reed
Far Future: wall nut, potato mine, iceberg lettuce
Kongfu World : White Radish, Fire Gourd
Dark Ages: Fume Shroom, Magnet Shroom
Big Wave Beache: guacodile, tangle kelp
Frostbite Caves: Fire Peashooter
Sky City: unknown, please complete this part
Lost City: red stinger, Jackfruit
Neon Mixtape Tour: Celery stalker, intensive carrot
Gallery
Ad blocker interference detected!
Wikia is a free-to-use site that makes money from advertising. We have a modified experience for viewers using ad blockers

Wikia is not accessible if you've made further modifications. Remove the custom ad blocker rule(s) and the page will load as expected.