This subject currently has no proper strategy associated with it. If you have figured out a good strategy, please
add it
or the zombies will eat your brains!
Pitaya (火龙果; pinyin: huǒlóng guǒ) is a monthly special plant in the Chinese version of Plants vs. Zombies 2, and the monthly special plant for May 2016. He attacks by lobbing balls of fire, damaging every zombie in an area around it. He can also thaw plants in Frostbite Caves.
Origins
Pitaya is based on the Pitaya, a fruit that grows on cacti which is also known as the dragon fruit.
Almanac entry
Note: Pitaya's in-game damage is Heavy and his recharge in-game is Fast.
火龙果

Pitaya

吐出燃烧的果实,对敌人造成少量伤害。

植物特征:红色植物、满腹怒火
火龙果从小就很焦虑,因为他总想数清楚自己的果肉里有多少籽,它还很容易发怒,因为总有人怀疑他和黑芝麻有什么关系。后来他想通了,把难题全部抛出来,让僵尸们去头疼吧!
火龙果 (Pitaya)
Sun cost: 150
DAMAGE: Moderate
RANGE: Lobbed
RECHARGE: Sluggish
吐出燃烧的果实,对敌人造成少量伤害。
植物特征:红色植物、满腹怒火
火龙果从小就很焦虑,因为他总想数清楚自己的果肉里有多少籽,它还很容易发怒,因为总有人怀疑他和黑芝麻有什么关系。后来他想通了,把难题全部抛出来,让僵尸们去头疼吧!
English:

Spits burning pulp, dealing a small amount of damage to the enemies.

Plant feature: Red plant, full of anger

Pitaya grew up with anxiety, as he always wished to count how many seeds are there in his pulp. It's also easy for him to get upset, because there's always someone suspecting him to be somewhat related to sesame seeds. He later thought these through, throw out all problems, and let them become the zombies' headache instead!
Upgrades
Plant Food effect
When given Plant Food, Pitaya spits a large fireball that rolls through the lane.
Costumed
The fireball now leaves a fire trail that lasts for few seconds.
Level upgrade
Level
Upgrades
Description

Blue Anger
Pitaya has a 50% chance to shoot a napalm ball that deals twice as much damage to zombies.

Combat Training
Pitaya gains 50% more attack power and health (150% of initial).

Rage
Pitaya shoots faster.

Cell Activation
Pitaya gains another 50% more attack power and health (200% of initial).

Ability Awaken
Pitaya may be boosted when planted.

Fighting Power
Pitaya gains another 50% more attack power and health (250% of initial).
Gallery
Old
Miscellaneous
Trivia
He is the first Chinese-exclusive plant that can thaw plants. The second is Flame Flower Queen and the third is Match Flower Boxer.
His projectile's splashing sound attack reuses Pepper-pult's splash sound.

This was fixed in version 2.0.0 with a new sound effect.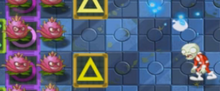 If the player looks closely at the splash when his projectile hits a zombie, the player can see the pepper silhouettes, similarly to Pepper-pult's.
This is the first plant in the series to be based off of a dragon fruit, the second one being Dark Matter Dragonfruit.

This makes him the only plant in a main series game to be based off of a dragon fruit.