Ad blocker interference detected!
Wikia is a free-to-use site that makes money from advertising. We have a modified experience for viewers using ad blockers

Wikia is not accessible if you've made further modifications. Remove the custom ad blocker rule(s) and the page will load as expected.

For the international version of the level, see Pirate Seas - Day 6.
For the version after the v1.8 update, see Pirate Seas - Day 6 (Chinese version).
Pirate Seas - Day 6 is the sixth level of Pirate Seas in the Chinese version of Plants vs. Zombies 2. It introduces the Imp Cannon to the player. After completing this level, the player receives a money bag.
Difficulty
Strategy
Suggested plants
Start by planting two columns of Sunflowers and delay the zombies and kill them by using a Potato Mine (and an Iceberg Lettuce if needed).
When you have enough sun, start planting Bloomerangs, Cabbage-pults, and Wall-nuts.
If anything goes wrong, like when Pirate Imps eat your plants, quickly recover your defense.
Use the plants' Plant Food effect if needed.
Gallery
Walkthroughs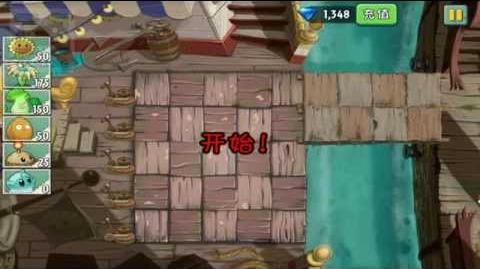 * A gate can be unlocked with a key after completing this level
^ Conjectural name