Pirate Seas - Day 35 is the thirty-fifth level of Pirate Seas in Plants vs. Zombies 2. The player must defeat Dr. Zomboss for a second time against the Zombot Plank Walker. After completing this level, the player receives a money bag.
Dialogue
Intro
(Dr. Zomboss appears)
Dr. Zomboss: The timbers be shivered! The seas are ablaze!
Dr. Zomboss: Your doom is assured! Your mind is a haze!
Dr. Zomboss: The Zombot Plank Walker 2.0 shall soon rule the waves!
(Dr. Zomboss leaves)
Outro
(Crazy Dave and Penny appear)
Crazy Dave: We lived! Take that, planks and zombies and seaweed!
Penny: Indeed, User Dave, piracy is not a victimless crime.
(Crazy Dave and Penny leave, Dr. Zomboss appears)
Dr. Zomboss: These upgraded plants are egregious and unfair!
(Dr. Zomboss leaves)
Difficulty
The second version of the Zombot Plank Walker is much more powerful than its predecessor. For starters, this version rains down a lot more Imp Pirate Zombies than its previous version. It can also use its rush attack faster and spawn zombies more heavily, and powerful zombies will be spawned right at the start. The player is forced to delay the zombies with Spikeweeds and Chard Guards before more powerful plants are given to the player.
Spawning
First phase
Second phase
Third phase
Strategies
Trivia
Walkthrough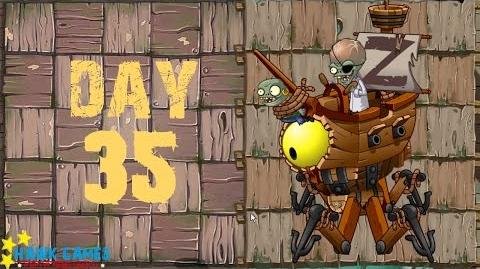 *: Removed