This subject currently has no proper strategy associated with it. If you have figured out a good strategy, please
add it
or the zombies will eat your brains!
Pirate Seas - Day 27 is the twenty-seventh level of Pirate Seas in Plants vs. Zombies 2. When this level is finished for the first time, the player gets a Pirate Seas pinata.
Difficulty
This is a very long level, filled to the brim with zombies. The only plants you are given to attack are Threepeater, Spikeweed, and Spikerock. However, there is only a few of each given. The mold colonies make matters worse, since there is very limited space to plant. Escape Root is given to the player, however it cannot be planted on the planks, meaning it has to be used for movement purposes. Moving around Threepeater is essential for winning, as many Seagull Zombies will slip past lower plants, and must be taken out by Threepeater. Save Plant Food for Spring Bean, as it can defeat most zombies, including Gargantuar Pirates.
Waves
The small number next to the zombie icon means that zombie will always appear in that lane, with 1 being the topmost lane and 5 being the bottommost one.
| Waves | Non-dynamic zombies | Ambush zombies | Note(s) |
| --- | --- | --- | --- |
| 1 | 3 | None | |
| 2 | 4 1 4 | None | |
| 3 | 2 5 3 | None | 100%/7 Plant Food |
| 4 | 3 2 5 | None | |
| 5 | 1 4 2 5 | None | |
| 6 | 2 5 5 5 5 2 3 3 | None | First flag |
| 7 | 2 5 5 2 5 | None | 200%/7 Plant Food |
| 8 | None | | Raiding Party! |
| 9 | 3 1 2 3 4 5 | None | |
| 10 | 1 2 5 | | 100% Plant Food; Raiding Party! |
| 11 | 5 | None | |
| 12 | 1 2 3 4 4 5 2 3 3 2 3 5 | None | Second flag |
| 13 | 1 3 5 1 3 5 | None | 100%/7 Plant Food |
| 14 | 2 3 1 3 4 | None | |
| 15 | 1 2 5 3 5 | | Raiding Party! |
| 16 | 1 1 1 4 1 4 2 5 3 5 | None | |
| 17 | 2 2 3 3 4 4 2 3 3 5 | None | 100% Plant Food |
| 18 | 2 3 5 2 3 5 1 4 2 3 5 | | Final flag; Raiding Party! |
Strategies
Strategy 1
Created by MartinUWH
Walkthrough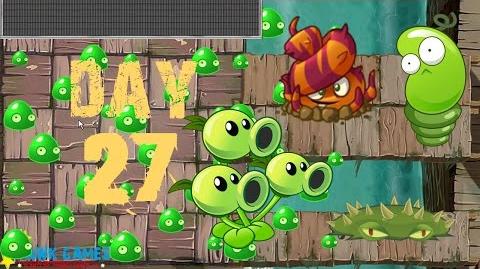 *: Removed