Ad blocker interference detected!
Wikia is a free-to-use site that makes money from advertising. We have a modified experience for viewers using ad blockers

Wikia is not accessible if you've made further modifications. Remove the custom ad blocker rule(s) and the page will load as expected.

For the international version of the level, see Pirate Seas - Day 1.
For the version after the v1.8 update, see Pirate Seas - Day 1 (Chinese version).
"

But Pirates! Hang on to your parrots and peg legs!

"

—Crazy Dave
Pirate Seas - Day 1 is the first level of Pirate Seas in the Chinese version of Plants vs. Zombies 2. To complete this level, the player must use the plants to eliminate the Pirate Zombies, since this level took place in the Pirate Seas during the year 1679. After completing this level, the player receives a money bag.
Dialogue
Crazy Dave and Penny appear:
Penny: I thought we were trying to get back home and get your taco.
Crazy Dave: But Pirates! Hang on to your parrots and peg legs!
Crazy Dave and Penny leave
After completing the level:
Crazy Dave: Shiver me timbers. I've always wanted to do some swashbuckling!
Crazy Dave: And I've always wanted a poop deck of my own.
Penny: Yes, let's go. I'd hate for him to improvise a poop deck here.
Difficulty
Much like the identically placed level in the international version, which is Day 1, this level is pretty easy.
Strategy
You can create your own strategy in this level.
Small tips:
The player cannot plant a Potato Mine on the planks. Only other plants can do so. The player should plant two columns of Sunflowers at the back, a column of Peashooters or Cabbage-pults, a column of Bloomerangs, and then a column of Wall-nuts (especially the lane which Swashbuckler Zombies appear).
Gallery
Walkthrough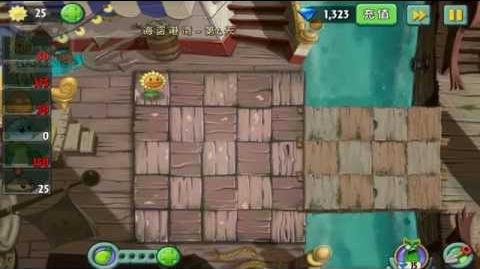 * A gate can be unlocked with a key after completing this level
^ Conjectural name