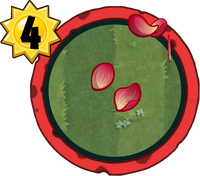 Petal-Morphosis is a premium rare plant trick card in Plants vs. Zombies Heroes, and a member of the

Kabloom class. It costs 4

to play, and its abilities transform a selected plant into a random plant from the entire game, and give the plant hero a card.
Origins
Its name is a portmanteau of "petal," referring to the petals that appear when playing the trick and "metamorphosis," referring to the fact that it can transform a plant into another plant.
Its description references the phrase "turning over a new leaf," which means to make a fresh new start with one's life.
Statistics
Class: Kabloom
Tribe: Flower Trick
Abilities: Transform a Plant into a random Plant. Draw a card.
Set - Rarity: Premium - Rare
Card description
For when it's time to turn over a new leaf.
Update history
Update 1.4.14
▲

Ability added : Draw a card.
Strategies
With
Petal-Morphosis can be a game changer, despite being based on a player's luck. This trick allows a plant as weak as a Lil' Buddy to be as strong as a Three-Headed Chomper. Therefore, it is not recommended to use this trick on a strong plant, but rather use it on a weak plant. This trick can also replace Seedling in some decks, due to its fragile state and weaker effect.
Keep in mind that it also gives you an extra card, so it's useful when you're all out of cards or if you want to boost Bananasaurus Rex, although only Captain Combustible can do the latter normally. However, other tricks such as Flourish are more effective at boosting Bananasaurus Rex. Additionally, it can be used to boost Muscle Sprout, or to activate Astro-Shroom's ability, as the former will boost itself when Petal-Morphosis transforms a plant, while the latter will do damage to the zombie hero when this trick is used.
Against
This trick is as unpredictable as Seedling, except that you have no way to prevent it, and there's no limit on sun cost. Thus, prepare for anything, even legendaries like Kernel Corn or Cornucopia. In most cases, this should be pretty easy to take care of, especially if used on the fourth turn, as there is time to retaliate.
Gallery
Old
Trivia
It and Flourish are the only non-superpower flower tricks in the game.