This mode was the lottery system before the v1.9.0 update. For the new and current lottery system, see Lottery system.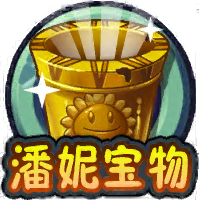 Penny's Treasures is a feature in the Chinese version of Plants vs. Zombies 2. With it, the player can get up to two plant or costumed Puzzle Pieces by paying gems, or once for free within 24 hours. It is seen next to the Lucky Treasure button on the map. When used, a shop gate of Crazy Dave's face will be opened, a golden Flower Pot with a Sunflower's face will appear and it will give the player their Puzzle Pieces. It has been removed in the v1.9.0 update and was replaced by chests of the new lottery system.
Usage
There are two bundles in the feature; to get one treasure for 35 gems or ten treasures at once for 300 gems. The prizes are chosen at random.
Every once in 24 hours, the player can get one Puzzle Piece for free, though the timer will count down from how much time left till midnight, which the player can get another subsequently, though this requires internet connection. At any time, the player can pay the price for a treasure for 35 gems, which will not affect the timer.
The second bundle, to pay 300 gems to unlock ten different kinds of Puzzle Pieces, is not possible to be free of charge, unlike the other. This bundle will guarantee the player from collecting a whole plant.
Gallery
Trivia
Despite that it is not possible to actually get Cherry Bomb through Puzzle Pieces normally since it has to be paid with real money, it is on the selection for ten Puzzle Pieces in the menu.