For the signature superpower in Plants vs. Zombies Heroes, see Peel Shield (PvZH).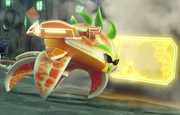 Peel Shield is the third ability for Citron in Plants vs. Zombies: Garden Warfare 2. When used, the Citron will create an orange shield in front of himself. The shield has the capability of absorbing incoming damage for a maximum of 30 seconds. It can withstand up to 75 damage before the shield disappears.
Stickerbook description
Harnessing cutting edge bio-citronics, the Peel Shield absorbs all incoming damage while still allowing you to shoot through it!
Balancing changes
Post Beta
▼

Shield Ability health decreased from 100 to 75
Gallery
Trivia
In Pre-Alpha, it went under a different name: Energy Shield.

When the player looks at the detailed stats of the Citrons in the Backyard Battleground, the stats still call it Energy Shield, despite the rename in Beta.