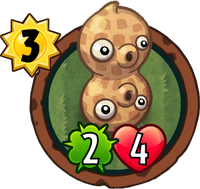 For the version in Plants vs. Zombies 2, see Pea-nut.
Pea-Nut

Statistics
Strength
Health
Cost
2
4
3
Set
Premium
Rarity
Uncommon
Class
Tribe
Pea Nut Plant
Traits
Team-Up
"Mom was a Peashooter. Dad was a nut. Everyone said it wouldn't work, but they were wrong."
Pea-Nut is a premium uncommon plant card in Plants vs. Zombies Heroes, and a member of the
Guardian class. It costs 3
to play, and has 2

/4
. It has the Team-Up trait, and does not have any abilities.
Statistics
Class: Guardian
Tribes: Pea Nut Plant
Trait: Team-Up
Abilities: None
Set - Rarity: Premium - Uncommon
Card description
"Mom was a Peashooter. Dad was a nut. Everyone said it wouldn't work, but they were wrong."
Update history
Update ????
Tribe order change: Nut Pea → Pea Nut
Update ????
Description change: Quotation marks are added to the start and end of the description.
Update 1.14.13
Set - Rarity change: Basic - Common → Premium - Uncommon
Strategies
With
Pea-Nut can be well used in a Grass Knuckles deck. It is affected by both The Podfather and Torchwood as well as Smackadamia, as all three of them can be used by Grass Knuckles.
Outside said hero's decks, it can be portrayed as a Wall-Nut with 2 less health, but with 2 more strength. It can either be better or worse than a Wall-Nut - it can fight back, unlike Wall-Nut who can just take hits, but Wall-Nut can be affected by Spineapple, which in that case, Wall-Nut would be a better version of Pea-Nut, with 2 more health. Overall, this is a pretty standard plant to use.
Against
Since this is a nut plant, Squirrel Herder is able to destroy it once she is revealed. This plant is also vulnerable to Weed Spray and Rolling Stone, due to its low strength. However, if its strength is boosted, it will become immune to these tricks. If its strength is boosted to 4 or above, it will be vulnerable to Rocket Science.
Gallery
Old
Ad blocker interference detected!
Wikia is a free-to-use site that makes money from advertising. We have a modified experience for viewers using ad blockers

Wikia is not accessible if you've made further modifications. Remove the custom ad blocker rule(s) and the page will load as expected.