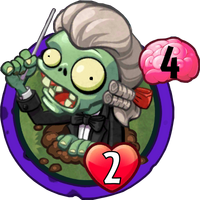 Orchestra Conductor is a premium uncommon zombie card in Plants vs. Zombies Heroes, and a member of the

Crazy class. He costs 4

to play, and has 2

. He does not have any traits, and his ability gives all zombies on the field, including him, +2

when he is played. His plant counterpart is Berry Angry.
Origins
He is based on an orchestra conductor, a person who leads an orchestra.
Statistics
Class: Crazy
Tribes: Dancing History Zombie
Traits: None
Ability: When played: All zombies get +2
Set - Rarity: Premium - Uncommon
Card description
He isn't in it for the music. He just likes waving sticks.
Update history
Update 1.14.13
Set change: Basic - Common → Premium - Uncommon
Update 1.16.10
Strategies
With
On his own, Orchestra Conductor has a poor stat ratio of 0.5

/0.5

per brain. Thus, this zombie is only useful when boosting other zombies with high health but low strength such as Jester and Team Mascot, or just flat out strengthen some heavy hitters such as Octo Zombie and Valkyrie. This zombie can also help in flooding decks where you can give pressure to your opponents with lanes full of high-strength zombies. As Impfinity, you can hide this zombie in the gravestone with In-Crypted to allow all zombies to get another +2

once he is revealed. Avoid using Mixed-Up Gravedigger as most zombies will lose the strength boost. It is also not recommended to use this zombie along with Disco-Naut as zombies can have their strength boosted to 4

or more and they will lose the

Bullseye trait.
While this is the zombie equivalent of Berry Angry, there are some differences between this and Berry Angry. Berry Angry is a trick and can be played even when the lane is full, while this is a zombie and cannot be played when the lane is full. However, unlike Berry Angry, Orchestra Conductor can hurt and block plants himself.
Orchestra Conductor is also a dancing card, meaning he can synergize with Flamenco Zombie, Aerobics Instructor, and Headhunter.
Against
This card is not much of a threat as he has low strength and health, so you might want to deal with the other zombies, as they have recently gained +2

. If the opponent plays this card and has most of their zombies with over 4 strength, the best counter against them is Doom-Shroom. However, it is best to destroy him quickly. Otherwise, the opponent might play Flamenco Zombie to do extra damage to you or play Aerobics Instructor to make him be able to do more damage each turn. Also, try not to Bounce him unless you get rid of all the other zombies, as the zombie hero can replay him to boost all the zombies again, making them even bigger threats.
Gallery
Old