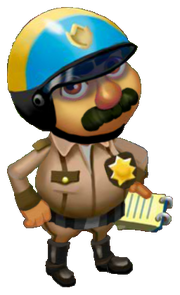 Officer Ron was a character in Plants vs. Zombies Adventures. Officer Ron appeared at the end of most locations in a police vehicle. When his vehicle was clicked, Officer Ron appeared and told the player that the highway ahead is dangerous, and that he required the player to carpool with at least two others, but this rate went up as the player progresses. The player could carpool with any amount of Facebook friends, but if they did not meet the required friend total, they could hire Crazy Dave for a certain amount of gems. The rate to hire went up as the player progressed through the Road Trip mode, just like the number of friends required to pass through.
Ron appeared as a quest giver after the player had reclaimed The Flaming Lot. The player couldn't put the Taco Truck in town without a permit, so Ron decided to deputize the player so that they could do what they want. However, he needed a Deputy Badge to do that, and Ron's only badge left was in Frostbite Falls Level 25.
Appearances

Gallery
Trivia
If the player looked closely, his badge had an apple shape on it.