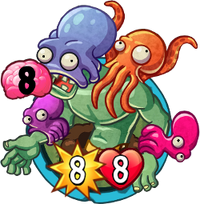 For the version in Plants vs. Zombies 2, see Octo Zombie.
Octo Zombie is a premium legendary zombie card in Plants vs. Zombies Heroes, and a member of the

Beastly class. He costs 8

to play, and has 8

/8

. He has the Amphibious and

Frenzy traits, and his ability adds an Octo Zombie into the zombie hero's hand when he is destroyed, unless the zombie hero has 10 cards in their hand.
Origins
He is based on the zombie in Plants vs. Zombies 2 with the same name and appearance.
His description is a reference to the grammatical issue of the plural for "octopus."
The fact that he has 8 health, 8 strength and costs 8 brains to play may be a reference to Octo Zombie himself, as the prefix "octo-" means "eight."
His "When destroyed" animation is a reference to the octopus' ability to squirt ink.
Statistics
Class: Beastly
Tribe: Pet Zombie
Traits: Amphibious, Frenzy
Ability: When destroyed: Gain an Octo Zombie.
Set - Rarity: Premium - Legendary
Card description
Is the correct term "octopuses" or "octopi"? You'd think he'd have an opinion, but he doesn't.
Update history
Update 1.16.10
▼

Trait removed: Afterlife

▲

Ability added: When destroyed: Bounce this Octo Zombie.
Update 1.22.10
▲

Ability change: When destroyed: Bounce this Octo Zombie. → When destroyed: Gain an Octo Zombie.
Strategies
With
Being one of the strongest Beastly zombies stat-wise, having the Amphibious and

Frenzy traits with 8

/8

stats and the ability to return to the player's hand indefinitely, he can be pretty crazy for your opponent to counter if they have no direct removals, since it'll pretty much rip through plants if they don't have the right removal. He is best used as a finisher to the game. With his very high stats and traits, he can do a lot of damage to the hero, albeit for a mediocre cost, but he's pretty impacting on turn 8 if you play he without he getting destroyed.
You can place this in the aquatic lane to get a major advantage over Solar Flare, Chompzilla, and Captain Combustible, who lack Amphibious plants (though Solar Flare and Chompzilla probably have cards that can destroy him instantly), and for direct damage and control if you're playing a control deck (preferrably control Boogaloo since it would've likely cleared any land threats). You can play him in front of plants at low health to finish them off, as he is mostly able to defeat them due to his extremely high strength and a high chance to strike the plant hero. His ability means that he could work with Valkyrie, but Valkyrie is normally the finisher of its deck. And Octo Zombie and Valkyrie, despite having abilities that work together, actually play too differently to work, as Octo Zombie is a control card, and Valkyrie is a card that benefits from playing in an aggro deck.
But a huge flaw in Octo Zombie is that it lacks a lot of synergy. Pet synergy is something you often see in the early game, and anything past turn 6 is pretty much a white flag for pets, and it's inability to actively effect the board when it is played. Cards that remove zombies have been getting very frequent in the metagame, and not just that but most metagame decks strive for smaller cards and faster play. Octo Zombie is a card that is exclusive to use in Control Decks, but due to more flexible, cheaper and interactive legendaries in the beastly class, Octo Zombie really falls behind on that notion. Even with its "infinite" returning ability, it's still a whole chunk of 8 brains to spend on a zombie that is a little understatted, and doesn't impact the board well for a turn 9 play.
Though this could see use in a control deck in Electric Boogaloo, since you focus on using things like Locust Swarm and Alien Ooze to take out most threats so that makes more room for Octo Zombie to breath, but even in that situation there is probably better zombies to use as expensive finishers. This card is objectively below average.
Against
It is highly recommended to remove him as quickly as possible since that wastes your opponent's entire turn for a zombie you got rid of for less, and leaves you with sun to use on whatever you plan your next play to be. Though, it might get replayed the next turn, so either have another removal/way to stall or try to win on turn 8. If you are able to get him to be moved, you should probably move him to the Amphibious Lane because having Octo Zombie on the ground could block a finishing shot from your Turn 8 board, assuming you have a good board on turn 8. If he is played in the Amphibious lane, try to build your board on the ground/heights to finish your opponent off. If not, try to destroy the zombie with a Guacodile, or removal in general. Basically, any kind of play that hinders his ability to attack (Bouncing, Freezing, etc.) is great because Octo is an 8 brain investment for something that has to make it to the combat phase to get its value back, which you can easily combat with removal, effects or blockage if you have the right plants.
There are lots of finishers like Octo Zombie out there, so be sure as a control hero to keep a Shamrocket or anything that can remove big zombies on hand if you plan to get into the late game. Though as long as you're ahead of the game, Octo Zombie being replayed is seriously no bother at all since you either have the removal or the board to combat him and your opponent.
If you are a Smarty hero, you can transform it with either Goatify, Transmogrify, or The Great Zucchini to prevent it from being returned to the zombie hero upon destruction. Best way to win against Octo Zombie is to really just try to destroy the zombie hero before this card can really take effect. Due to its high cost and investment as a card (for a mediocre job), it's pretty simple to counter this card since most decks don't go to turn 8. And the ones that do are the decks that have all the tools to get rid of Octo Zombie (Those being control decks).
Though, if you're unfortunate enough to come across it by means of transformation/ramp/stalling, it's really best to remove it as soon as possible, or stall Octo Zombie.
Audio
| Sound | Description |
| --- | --- |
| | When played (1) |
| | When played (2) |
Gallery
Plants vs. Zombies Wiki
has a
gallery
for Octo Zombie (PvZH).
Trivia
He is stronger than most Gargantuars and most Zombots, unlike in Plants vs. Zombies 2.

Zombot 1000 is the only Zombot that is currently stronger than him.

On the advertisements for the Zombie Premium Pack and the Legendary Pack, he is seen to have only one tooth.
Ironically, Neptuna cannot play this zombie, despite both being closely related to octopuses.
Soul Patch and Primal Wall-Nut is the only plant in the game that can survive a hit from Octo Zombie, without the help of any abilities or stat-boosting tricks.
Just like in Plants vs. Zombies 2, he only throws orange octopuses to attack even though he also has pink and purple octopuses on both of his hands.
He is the only card that cannot be permanently removed from the field nor the player's hand once he is drawn, unless he is transformed into something else.
He, Interstellar Bounty Hunter, and Supernova Gargantuar are the only Beastly legendaries with the Frenzy trait.

Out of the three, he is the only one who is not from the Galactic Gardens set.

He is also the only zombie out of the three to not be in the science tribe.

He is the second zombie from Big Wave Beach to return in the game, the first being Zombot Sharktronic Sub and the third being Surfer Zombie.