Difficulty: Hard


Nobel Peas Prize is an achievement unlockable on the PC, Steam, Xbox 360, and DS versions of Plants vs. Zombies. In order to unlock this achievement, the player must get the Gold Sunflower Trophy by beating Adventure Mode at least once and completing all of the mini-games, puzzles, and survival levels (excluding the endless ones). He or she will receive five diamonds upon the completion and the Silver Sunflower Trophy on the main menu will turn gold. Clicking or holding the mouse over the Gold Sunflower Trophy will also tell the player how many times they have beaten Adventure Mode.
If you hack to unlock Limbo Page, you do not need to complete all of the mini-games to get the Gold Sunflower Trophy. However, every time you complete a mini-game on this page, it will act like you just obtained the achievement.
Strategies
For strategies, you can see the mini-game pages, the Adventure Mode guide, the Puzzle Mode guide, and the Survival Mode pages.
Trivia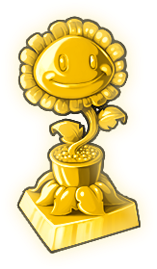 See also