Night Crawler is a game mode in Plants vs. Zombies: Garden Warfare. It is a limited-time mode that allows players to play on only the night versions of all the stages. It is just like Mixed Mode except that all stages are in their night form.
Description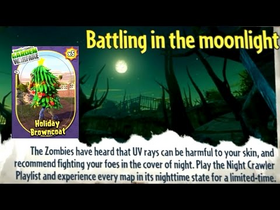 The Zombies have heard that UV rays can be harmful to your skin, and recommend fighting your foes in the cover of night. Play the Night Crawler Playlist and experience every map in its nighttime state for a limited-time.
Trivia
The name for the mode is based on the movie of the same name.
Ad blocker interference detected!
Wikia is a free-to-use site that makes money from advertising. We have a modified experience for viewers using ad blockers

Wikia is not accessible if you've made further modifications. Remove the custom ad blocker rule(s) and the page will load as expected.