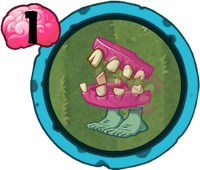 Nibble

Statistics
Strength
Health
Cost
-
-
1
Set
Basic
Rarity
Common
Class
Tribe
Gourmet Trick
Abilities
A Plant gets -1/-1. Heal your Hero for 2.
Just a quick bite.
Nibble is a basic common zombie trick card in Plants vs. Zombies Heroes, and a member of the

Beastly class. It costs 1

to play, and its abilities give a selected plant -1
/-1

, and heal the zombie hero for 2

.
Origins
It is based on chattery teeth, a children's wind-up toy.
Its name is based on the real meaning of nibble, which is to take small bites out of something.
Statistics
Class: Beastly
Tribe: Gourmet Trick
Abilities: A Plant gets -1/-1. Heal your Hero for 2.
Set - Rarity: Basic - Common
Card description
Just a quick bite.
Strategies
With
Despite this trick being able to heal you, there are not many instances in which you would plan to use this solely to heal, but rather take out, or nullify a threat that has either 1 strength, 1 health, or both in the early to mid-game. However, despite its healing ability being rather minor, it should not be disregarded either, as it could easily split the difference between victory and defeat, and should be taken into account.
Take note this only degrades a plant but does not do damage, so you cannot play Evaporate to destroy it afterwards.
Against
Nibble is a very cheap trick that is able to mess up your plants by lowering their stats so that they fail on destroying the target, or surviving the attack. Fortunately, a stat-boosting card can easily negate or lessen its ability.
A plant that is basically immune to this trick is Black-Eyed Pea, as its ability negates Nibble's ability. However, Nibble can destroy it if its health has been down to one.
Gallery
Old
Trivia
When the player looks at its information or receiving it from a pack, its wind-up key is missing.
Ad blocker interference detected!
Wikia is a free-to-use site that makes money from advertising. We have a modified experience for viewers using ad blockers

Wikia is not accessible if you've made further modifications. Remove the custom ad blocker rule(s) and the page will load as expected.