This subject currently has no proper strategy associated with it. If you have figured out a good strategy, please
add it
or the zombies will eat your brains!

This article is under construction and requires more content. You can help our wiki by
expanding it
.
For the international version of the level, see Neon Mixtape Tour - Day 3.
Neon Mixtape Tour - Day 3 is the third level of Neon Mixtape Tour in the Chinese version of Plants vs. Zombies 2. It is a Special Delivery level. This level showcases Cactus and Glitter Zombie. After completing this level, the player receives a money bag.
Dialogue
Intro
Crazy Dave: I am starting to have a feeling for Cactus, Penny!
Penny: Actually, Cactus has changed as time passed, Student Dave.
Penny: Now it uses its spikes to deal ranged damage, but it will also hide when zombies get close to it, causing ground damage.
Crazy Dave: This is so Cactus... Changing its attack position at times!
(Crazy Dave and Penny leave)
Walkthrough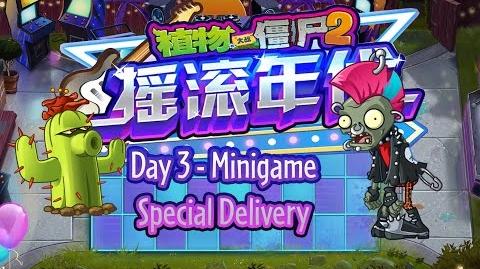 This article is a stub. Help us
expand it
, or the zombies will eat your brains!
Ad blocker interference detected!
Wikia is a free-to-use site that makes money from advertising. We have a modified experience for viewers using ad blockers

Wikia is not accessible if you've made further modifications. Remove the custom ad blocker rule(s) and the page will load as expected.