For the Chinese version of this level, see Neon Mixtape Tour - Day 23 (Chinese version).
This subject currently has no proper strategy associated with it. If you have figured out a good strategy, please
add it
or the zombies will eat your brains!
Neon Mixtape Tour - Day 23 is the twenty-third level of Neon Mixtape Tour in Plants vs. Zombies 2. After completing this level, the player receives a money bag.
Difficulty
The Arcade Zombie returns again in this level, and can be troublesome if the player has not been ready to counter it yet.
The player should also watch out for other zombies such as MC Zom-B and Breakdancer Zombie as well.
Gallery
Walkthrough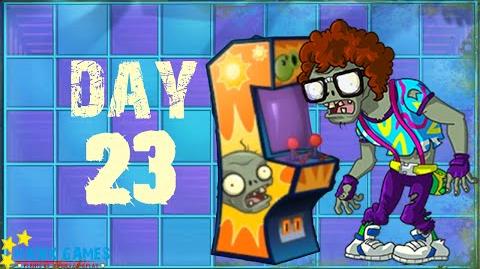 Ad blocker interference detected!
Wikia is a free-to-use site that makes money from advertising. We have a modified experience for viewers using ad blockers

Wikia is not accessible if you've made further modifications. Remove the custom ad blocker rule(s) and the page will load as expected.