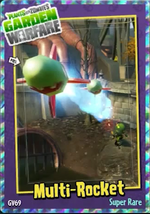 Multi-Rocket is an alternate ability of the Foot Soldier's ZPG. It was added in the Garden Variety DLC. When used, it launches four small rockets to the target. It takes 25 seconds to recharge. It deals 35 damage for a direct hit, and about 1-20 for the splash damage. Despite the damage dealt was low, it is pretty effective especially when taking down groups of plants.
Stickerbook description

What's better than launching a ZPG? Launching MANY ZPGs! While smaller than standard issue ZPG, these Zomboss rockets still pack a mighty punch!
Trivia