Ad blocker interference detected!
Wikia is a free-to-use site that makes money from advertising. We have a modified experience for viewers using ad blockers

Wikia is not accessible if you've made further modifications. Remove the custom ad blocker rule(s) and the page will load as expected.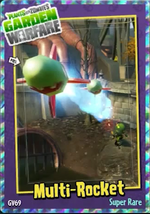 Multi-Rocket is an alternate ability of the Foot Soldier's ZPG. It was added in the Garden Variety DLC. When used, it launches four small rockets to the target. It takes 25 seconds to recharge. It deals 35 damage for a direct hit, and about 1-20 for the splash damage.
Stickerbook description

What's better than launching a ZPG? Launching MANY ZPGs! While smaller than standard issue ZPG, these Zomboss rockets still pack a mighty punch!
Strategies
Multi-Rocket is better suited for situations for when multiple plants are in one spot, such as in
Gardens & Graveyards
. Additionally, it can also help in spots where plants are camping, such as the tree fort in the
Welcome Mat
. Other than that, it's good to use this at a safe distance, as the noise it makes is very loud, noticeable, and damage can be done to yourself if close enough to the impact.
Trivia