Ad blocker interference detected!
Wikia is a free-to-use site that makes money from advertising. We have a modified experience for viewers using ad blockers

Wikia is not accessible if you've made further modifications. Remove the custom ad blocker rule(s) and the page will load as expected.

This article is under construction and requires more content. You can help our wiki by
expanding it
.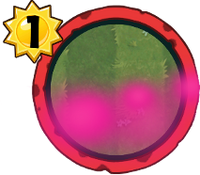 More Spore

Statistics
Strength
Health
Cost
-
-
1
Rarity
Super-Rare
Class
Tribe
Mushroom Superpower Trick
Abilities
Make two 1/1 Button Mushrooms in random lanes.
One good mushroom deserves another.
More Spore is a super-rare plant superpower trick card in Plants vs. Zombies Heroes, and a member of the

Kabloom class. It costs 1
to play, and its ability summons two Button Mushrooms in random lanes. Its zombie counterpart is Dance Off.
Statistics
Class: Kabloom
Tribe: Mushroom Superpower Trick
Abilities: Make two 1/1 Button Mushrooms in random lanes.
Rarity: Super-Rare
Card description
One good mushroom deserves another.
Update History
Update 1.2.11
▼

Ability change: "Make two 1/1 Puff-Shrooms with Team-Up in random lanes." → "Make two 1/1 Button Mushrooms in random lanes."
Restricted to Nightcap and Solar Flare.
Strategies
With
Like Dance Off, this trick is a good way to fill the lanes with fighters (mushrooms) quickly for Buff-Shroom or Punish-Shroom to take effect. But generally, this trick, if used in the first round, can deal either 2 damage to the hero or block a zombie and deal 1 damage to the hero, provided that neither of the Button Mushrooms have been destroyed before engaging in combat.
Since this trick counts as playing 2 plants, it synergizes well with Muscle Sprout. However, no hero can have More Spore and Muscle Sprout at the same time, unless they get it from Seedling.
Due to it only spawning Button Mushrooms instead of Puff-Shrooms, it is a bad idea to use this when there are less than 2 lanes that are empty, since they do not have team-up.
Against
This will not exactly help the plant hero unless Punish-Shroom is on the field, which will cause either some of your zombies to be low on health or have your hero take plenty of damage. If the plant hero uses this on the first turn, it is possible that you will have to accept taking 2 damage, unless you have a zombie in one of the Button Mushroom's lanes.
Gallery
Old
Trivia
Its card description is a reference to the popular idiom "one good turn deserves another."
Its name is an example on rhyming.
It was possible to trigger Punish-Shroom's special ability by playing this trick as this, along with Doom-Shroom, counted as a mushroom being 'destroyed'. This has been removed in an update.
See also
This article is a stub. Help us
expand it
, or the zombies will eat your brains!