This subject currently has no proper strategy associated with it. If you have figured out a good strategy, please
add it
or the zombies will eat your brains!
This article is under construction and requires more content. You can help our wiki by
expanding it
.
Modern Day - Day 42 is the forty-second level of Modern Day in Plants vs. Zombies 2. It is a Locked and Loaded level. After completing this level, the player receives a money bag.
Difficulty
This is a very unique Locked and Loaded level. To begin, the plants given are counter-intuitive, as Snapdragon will negate Winter Melon's chill effect. In addition, Chard Guard will push back zombies from Snapdragon's range. However, all of these plants are vital for winning. Imp Dragon Zombies appear so that Winter Melon or Chili Bean must be used to defeat them, while Parasol Zombies appear for the opposite reason. Chard Guard will aid in holding back big crowds and tough zombies. There is also not a big rush in this level unlike most Modern Day levels, so taking time can be done to set up a good defense. There is always the option of leveling up the plants in order to make the level easier.
Waves
The small number next to the zombie icon means that zombie will always appear in that lane, with 1 being the topmost lane and 5 being the bottommost one.
| Waves | Non-dynamic zombies | Ambush zombies | Note(s) |
| --- | --- | --- | --- |
| 1 | | None | |
| 2 | 2 2 2 | None | |
| 3 | 4 4 4 | None | 100%/7 Plant Food |
| 4 | 3 3 | None | |
| 5 | 1 5 1 5 1 5 | None | 100% Plant Food |
| 6 | 2 1 3 4 5 | None | |
| 7 | , , 2 4 2 2 4 | None | First flag |
| 8 | 1 2 3 4 5 1 2 3 4 5 | None | |
| 9 | 1 3 4 3 4 | None | 100% Plant Food |
| 10 | 2 1 5 1 2 5 1 2 5 | None | |
| 11 | 2, 3, 4, 2 3 4 | None | |
| 12 | 4 2 5, 1, 3 | None | 300%/7 Plant Food |
| 13 | 2, 4, 1 2 3 4 5 1 2 3 4 5 | None | |
| 14 | 2 4 | None | Final flag |
Gallery
Walkthrough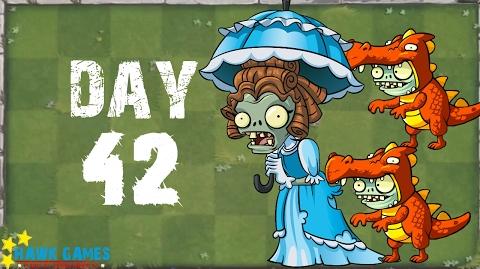 *: Removed