Modern Day - Day 36 is the thirty-sixth level of Modern Day in Plants vs. Zombies 2. When this level is finished for the first time, the player receives a Mystery Gift Box.
Difficulty
Do not let the small number of waves underestimate this level, as it is very difficult and can be lost immediately. The two Imp Cannons that spawn first can launch Imps directly to the mold colonies. Zombies in each wave are also high in density and come in big waves. There are also Newspaper Zombies to deal with and Wizard Zombies to make setting up proper defenses harder. This level may take a few tries to nail a strategy down. Instant use plants are highly recommended.
Waves
The small number next to the zombie icon means that zombie will always appear in that lane, with 1 being the topmost lane and 5 being the bottommost one.
| Waves | Non-dynamic zombies | Ambush zombies | Note(s) |
| --- | --- | --- | --- |
| 1 | 2 4 | None | |
| 2 | 2 4 | None | First flag; 100%/7 Plant Food |
| 3 | 2 4 | None | 100% Plant Food |
| 4 | 1 5 1 3 5 | None | Second flag |
| 5 | 1 5 | None | 500%/7 Plant Food |
| 6 | 2 4 2 3 4 | None | Final flag |
Strategies
Strategy 1
Created by Redhonker 

(Contains premium content)
Required plants:
On the 4th column, plant Twin Sunflower on the 1st, 3rd and 5th row
On the 5th column, plant Snapdragon on the 1st, 3rd and 5th row
On the 6th column, plant Primal Wall-nut on the 1st, 3rd and 5th row
On the 4th column, plant Lava Guava on the 2nd and 4th row. This must be completed by Imp Cannon exploded. This is the most crucial step. Otherwise Imp will destroy your defense
The rest is easy
Strategy 2 

(May contain premium content)
Created by Lukraniom
Plant a Gold Bloom.
Plant a Snapdragon on the third row, fourth column
Plant two Sunflowers in front of the Snapdragon and two on first and fifth rows on the same column.
Plant more Snapdragons on second and fourth rows, fourth column.
Once the first wave comes, plant your instant-use explosive on third row, ninth column.
Build up defenses with your defensive and plant some Primal Potato Mines in front of zombies.
Once the second flag comes, plant your instant-use explosive on fourth row, ninth column to take out the large number of Wizard Zombies and Imp Cannoncs and plant Snapdragons near the other. Then block them with Primal Wall-nuts to stall Wizard Zombies and keep other zombies from eating them.
Keep planting Snapdragons wherever you need them and then repeat the sixth step once the final wave comes.
Gallery
Walkthrough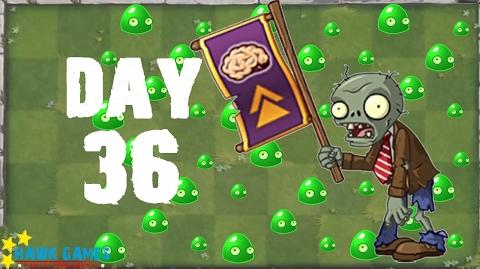 *: Removed