This subject currently has no proper strategy associated with it. If you have figured out a good strategy, please
add it
or the zombies will eat your brains!
Modern Day - Day 31 is the thirty-first level of Modern Day in Plants vs. Zombies 2. Modern Day sliders are once again present in this level. This level showcases the Escape Root, the premium plant tied to Modern Day Part 2, and it is pre-selected in the seed slots. After completing this level, the player receives a money bag.
Difficulty
The player is given Escape Root to use in this level. However, this plant is not very handy. The switching ability of Escape Root is useless if the player has a good set up, and Escape Root should only be used during the beginning of the level to easily take out a few zombies. Other than that, the Jester Zombie appears, so the player should not bring any plants that use projectiles, as the Jester Zombie will fling them right back. All-Star Zombie should be watched for as like in Modern Day - Day 25, All-Star Zombies can use slider tiles and rush into another lane. Other zombies like Explorer Zombie and Newspaper Zombie can also overwhelm the player.
Waves
The small number next to the zombie icon means that zombie will always appear in that lane, with 1 being the topmost lane and 5 being the bottommost one.
| Waves | Non-dynamic zombies | Ambush zombies | Note(s) |
| --- | --- | --- | --- |
| 1 | | None | |
| 2 | 2 4 | None | |
| 3 | 3 | None | 100% Plant Food |
| 4 | 1 | None | |
| 5 | 3 -5 2 4 | None | First flag |
| 6 | 5 1 | None | |
| 7 | 4 | None | |
| 8 | 1 3 5 | None | 100% Plant Food |
| 9 | 4 -2 3 | None | |
| 10 | 5 1 3 3 | None | Final flag |
- pushes only two blocks
Gallery
Walkthrough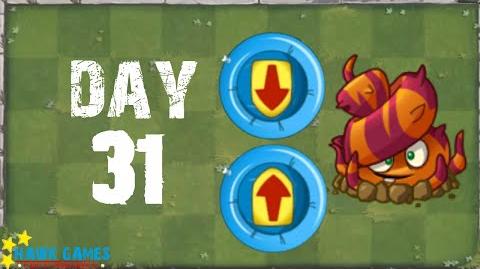 *: Removed