This subject currently has no proper strategy associated with it. If you have figured out a good strategy, please
add it
or the zombies will eat your brains!
This article is under construction and requires more content. You can help our wiki by
expanding it
.
Modern Day - Day 24 is the twenty-fourth level of Modern Day in Plants vs. Zombies 2. A new zombie called the Super-Fan Imp makes its first appearance in this level and Power Tiles also appear here. After completing this level, the player receives a money bag.
Difficulty
The Super-Fan Imp does a little harm by himself, though the player needs to take care of him when the All-Star Zombie appears on the same lane as he does, as the All-Star Zombie can propel the Super-Fan Imp forward to the first to third tile of the lawn from the left where the plant which is planted on it will explode. In addition, he will explode and damage the player's plant as soon as he comes into contact with it, killing it (if it is not a defensive plant).
Waves
The small number next to the zombie icon means that zombie will always appear in that lane, with 1 being the topmost lane and 5 being the bottommost one.
| Waves | Non-dynamic zombies | Ambush zombies | Note(s) |
| --- | --- | --- | --- |
| 1 | | None | |
| 2 | 4 | None | |
| 3 | 1 +2 3 | None | 100% Plant Food |
| 4 | 5 4 | None | |
| 5 | 4 5 1 2 3 3 | None | First flag |
| 6 | 1 5 | None | |
| 7 | 4 4 | None | |
| 8 | 2 +3 1 | None | |
| 9 | 1 3 5 1 2 3 4 5 | None | |
| 10 | 1 3 5 2 3 4 3 | None | Final flag |

+ always carries metal grate
Gallery
Walkthrough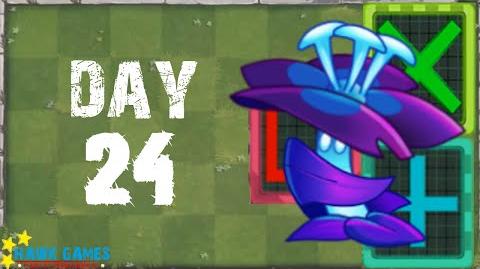 *: Removed