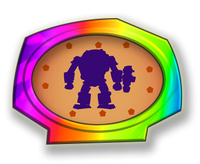 For the similarly named ability in Plants vs. Zombies: Garden Warfare 2, see Missile Madness.
Missile Madness is Z-Mech's premium legendary zombie signature superpower trick card in Plants vs. Zombies Heroes, and a member of the

Hearty and

Crazy classes. It costs 1

to play, and its ability does 3 damage to a selected plant, and 1 damage to all other plants on the field.
Origins
It is based on one of Z-Mech's abilities in Plants vs. Zombies: Garden Warfare 2 with the same name.
Statistics
Classes: Hearty, Crazy
Tribes: Science Imp Superpower Trick
Ability: Do 3 damage to a Plant and 1 damage to all other Plants.
Set - Rarity: Premium - Legendary
Card description
For Z-Mech, any target is a good target.
Update history
Update 1.16.10
Ability change: Attack for 2 damage in three random lanes. → Do 3 damage to a Plant and 1 damage to all other Plants.
Update 1.24.6
Strategies
With
This superpower costs as much and does as much damage as Electrobolt, which is also one of Z-Mech's superpowers. However, unlike Electrobolt, Missile Madness can also do damage to other plants, so if you don't have to damage other plants, Electrobolt is a more effective option.
Since this is a science card, it can be played to activate Interdimensional Zombie's ability. But ironically, Z-Mech himself cannot use this combo as Interdimensional Zombie is in the

Brainy class. Only Brainy heroes can use this combo via Thinking Cap (or Quasar Wizard too in Professor Brainstorm's case) to Conjure Missile Madness.
If you somehow use it with Toxic Waste Imp, you can use it to destroy a plant you target with it. However, due to a glitch, the other plants hurt by the "splash damage" will not be destroyed by
Deadly.
Since this trick does damage to all plants, it works well with Zombot Sharktronic Sub as it can destroy most plants on the field and boost itself a lot. But again, Z-Mech cannot use Zombot Sharktronic Sub normally as it is in the

Sneaky class. To use this combo, Impfinity must obtain Missile Madness from Quasar Wizard, while Super Brainz and Huge-Gigantacus should play Thinking Cap to obtain Missile Madness.
Against
Just like Electrobolt, having many threats on the field or boosting the plants' health to at least 4 reduces the impact of this trick. Generally, just be careful of swarming lots of plants that have 1 health as Z-Mech may have this superpower ready.
You can also make Z-Mech think twice before using this trick by having Mirror-Nut or Hibernating Beary on the field. However, be on the lookout for Rolling Stone and Weed Spray if you are going to use this strategy.
Gallery
Old
Trivia
After the RED update, Missile Madness's sound effect when it is played sometimes uses that of Shrink Ray or Eureka's.
Missile Madness is the only signature superpower whose icon does not depict its corresponding hero's face.
See also