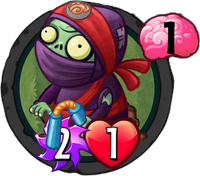 Mini-Ninja is a basic common zombie card in Plants vs. Zombies Heroes, and a member of the

Sneaky class. He costs 1

to play, and has 1

/1

. He has the

Anti-Hero 3 trait, and does not have any abilities. His closest plant counterpart is Poison Mushroom.
Origins
He is based on a ninja, a covert agent or mercenary in feudal Japan, whose functions included espionage, sabotage, infiltration, assassination and guerrilla warfare.
His name is a combination of "mini," referring to the fact he is an Imp, and "ninja," referring to what he is based on.
Statistics
Class: Sneaky
Tribe: Professional Imp Zombie
Trait: Anti-Hero 3
Abilities: None
Set - Rarity: Basic - Common
Card description
His motto: Walk softly and carry a big nunchuck.
Update history
Update 1.16.10
▲

Tribe added: Professional
Strategies
With
Mini-Ninja is a very cheap and deadly zombie who is able to land heavy damage on your opponent if you use him well.
Early-game, Mini-Ninja can find a fair number of opportunities to attack your opponent as there are many empty lanes for him to be played on, and cards such as Smoke Bomb, Terrify, or Sumo Wrestler can also help clear the way to take advantage of his

Anti-Hero trait more easily. If you are playing as Super Brainz, you can use Carried Away to help him do more damage in an empty lane, increasing his effectiveness.
You can synergize Mini-Ninja with various cards to make him more potent. The aforementioned cards that can either move Mini-Ninja or the plant blocking it are some. Toxic Waste Imp allows Mini-Ninja to destroy any plant that blocks him, with the exception of

Armored plants. However, you may also need health-boosting tricks too, as Mini Ninja's low health makes him unsuitable in combat against plants.
Mini-Ninja can also be used as a potent distraction. On the first turn, Mini-Ninja can be played to force your opponent to play plants that can quickly deal with it such as Potato Mine, instead of ones that are more useful long-term like Pea Pod or Sunflower. Late-game, Mini-Ninja can be played alongside more powerful zombies to force your opponent to either scatter their defenses and reduce their overall chances of survival, or focus on the more powerful zombies and leave Mini-Ninja alone.
However, in the late game, Mini-Ninja usually struggles to find his place due to his poor stats and the existence of more powerful zombies that outperform him, even with his

Anti-Hero trait active, so he should be replaced with powerful replacements such as Walrus Rider. However, since Walrus Rider is expensive, you may want to have both this and Walrus Rider at the same time.
Against
While Mini-Ninja is very dangerous, his low health is his biggest weakness. He can be destroyed by almost every damaging plant or trick. However, you should have a plan B in case your opponent moves either Mini-Ninja to an empty lane or the plants in front of him to another lane. The best way is to use tricks to destroy him, such as Berry Blast.
Gallery
Plants vs. Zombies Wiki
has a
gallery
for Mini-Ninja.
Trivia
He is the first ninja in the game, the second being Space Ninja.

Coincidentally, both are professional cards and damage plants using shurikens.

He is the only zombie in the professional and Imp tribes.
His description references the proverb "speak softly and carry a big stick."