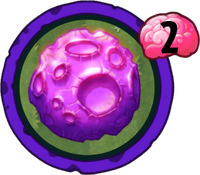 Meteor Z

Statistics
Strength
Health
Cost
-
-
2
Set
Galactic
Rarity
Uncommon
Class
Tribe
Environment
Traits
None
Abilities
Zombies here get +2.
This comet had a huge impact on Earth. Just wait. You'll see.
Meteor Z is a galactic uncommon zombie environment card in Plants vs. Zombies Heroes, and is a member of the
Crazy class. It costs 2

to play, and its ability gives all zombies on a selected lane +2

. This ability persists until Meteor Z is overridden by another environment.
Statistics
Class: Crazy
Tribe: Environment
Trait: None
Ability: Zombies here get +2.
Set - Rarity: Galactic - Uncommon
Card description
This comet had a huge impact on Earth. Just wait. You'll see.
Update history
Update 1.16.10
Strategies
With
This environment is generally a way for a zombie of any tribe to increase their strength instead of other ways like Aerobics Instructors that only boost dancing zombies. It can allow a zombie to do more damage to the plant hero or for a zombie to defeat a plant that could cause chaos.
Generally, this is similar to Brute Strength, except the fact that this is an environment and it can be used in a deck up to four times. Using this with a zombie can be used to do extra damage and once that zombie is destroyed, you can play another zombie in that same environment and that zombie will get +2

.
You can also use this on zombies with high health zombies to create threats to the plant hero.
Against
This environment can allow a zombie in that environment to do more damage to one of your plants or to the plant hero. You can treat this like Brute Strength, except that it is an environment so even if you destroy that zombie in that environment, another zombie can be played and it will get +2

. If this cause chaos to your plants that are destroyed easily or have been taking a lot of damage due to the environment's ability, try to remove this environment if possible.
Gallery
Trivia