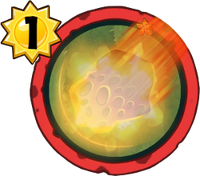 Meteor Strike is a super-rare plant superpower trick card in Plants vs. Zombies Heroes, and a member of the

Kabloom class. It costs 1

to play, and its ability instantly does 3 damage to a selected zombie fighter. Its zombie counterpart is Electrobolt.
Origins
It is based on a meteor, also known as a shooting star, which is the visible passage of a glowing meteoroid.
Its old description is a reference to one of the main theories on why dinosaurs became extinct, namely meteor strikes.
Its new description references the Dino-Roar cards on the zombies side, and how Meteor Strike does not do extra damage to them.
Statistics
Class: Kabloom
Tribe: Superpower Trick
Ability: Do 3 damage to a Zombie.
Rarity: Super-Rare
Card description
You would think this would be especially effective against Zombies riding dinosaurs...
Update history
Update 1.2.12
Update 1.22.12
Description change: Was originally Effective against Zombies and dinosaurs.
Strategies
With
It is a cheaper version of Berry Blast, does the same damage, but can only be used on a zombie fighter and does not have the berry tribe. So if you have no intentions on using Berry Blast on the enemy hero, Meteor Strike is generally a better option, if available. It can also be played on turn 1 unlike Berry Blast, making it more effective against zombies like Tennis Champ, Mini-Ninja, or Arm Wrestler. However, it is better to use Banana Bomb against those zombies if you have it, since this trick should be saved for zombies with higher health.
Against
Treat this trick like you do with Berry Blast, but with the fact that it cannot attack you and that it does not activate Sergeant Strongberry or Strawberrian's abilities. Use shielded zombies to prevent your opponent from playing this or have many zombies at once to make your opponent choose the one that is worth destroying the most.
Gallery
Old
Trivia
Prior to update 1.16.0, if one looked closely, the targeted zombie took damage before the meteor actually landed on it.
It uses the same sound effects as Electrobolt.
See also