Featured Article: Last Stand (Plants vs. Zombies)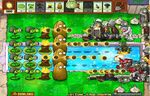 Last Stand is special pool mini-game. The game starts with 5000 sun, and the player needs to use the sun to create their strategy to survive five flags. You can get 250 sun after each flag. Sun Producing Plants and free cost plants cannot be used. It is one of most popular mini-games which the players love to create their own and the best strategies.
Read more at the article
Last Stand (Plants vs. Zombies)
!

Hi! I'm Milesprower2 (Miles for short). I'm a very active Admin here and I hate
Bonk Choys
and
Chompers
, but I love to use
Gloom-shrooms
and
Lightning Reeds
. I'm a fan of lots of video games...mostly Sonic games, but also Bloons Tower Defense games and several other video game series. I'm also the founder of
Plants vs. Zombies Fan Fiction Wiki
. Read more at
my userpage
!