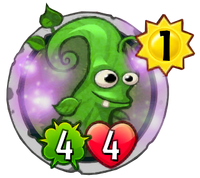 Magic Beanstalk is a token plant card in Plants vs. Zombies Heroes and a member of the

Smarty class. It can be obtained as a card from Moonbean, Lima-Pleurodon, or Sow Magic Beans. It costs 1

to play and has 4

/4

. It does not have any traits, and its ability draws a card when it is played.
Origins
Its name and appearance are based on the gigantic beanstalk in the popular English fairy tale, Jack and the Beanstalk.
Its description is a reference to the giant that owned the castle in the clouds that is reachable by climbing the beanstalk in said fairy tale.
Statistics
Class: Smarty
Tribes: Leafy Bean Plant
Traits: None
Ability: When played: Draw a card.
Set: Token
Card description
Giant not included.
Update history
Update 1.22.12
▲

Tribe change: Bean Vine Plant → Leafy Bean Plant
Design change: Is now darker in color and has purple sparks floating around it.
Sound effect change: Now has been given sound effects.
Strategies
With
Magic Beanstalk is a very strong plant for its sun cost, and is able to take a few hits and destroy a few zombies before getting destroyed itself. It is even more useful thanks to its ability to give you a card upon being played as well. You may be able to create an infinite rush setup if you keep getting them from each other. On top of that, this is also a bean plant, so using this with Bean Counter or Admiral Navy Bean can greatly help you. This plant goes extremely well with Rescue Radish due to its good ability and low cost, as it allows you to draw many cards from a single Magic Beanstalk, but if there's a better plant than Magic Beanstalk that needs to be saved, go for that plant instead. It also synergizes very well with plants with the Dino-Roar ability, as they receive a stat boost at a very cheap price, making Magic Beanstalk beneficial for decks containing them.
The only problem is, however, is that you will not get this right away after playing Sow Magic Beans, Moonbean doing damage, or Lima-Pleurodon activating its ability, and you may have to wait a few turns. If you are unlucky, you may get this too late, or may never get this throughout the entire game. Therefore, you should not solely rely on this for your main defenses.
Against
This plant can be a pretty big threat if left alone, due to it having such a low cost and great stats. Its ability also gives your opponent an advantage. While there is nothing you can do about its ability, destroying Magic Beanstalk is very simple. Try to destroy it with zombies with 4 or more strength or the
Deadly trait like Smelly Zombie or Toxic Waste Imp, or with tricks like Rocket Science or Cakesplosion. Do not Bounce this plant unless you are about to win, as your opponent can replay this and draw yet another card. Playing Quickdraw Con Man can help, as every time your opponent plays this card, they will take 1 damage. Bouncing it in this scenario can mill your opponent's hand with so many cards that they cannot block due to its ability, but is not advised unless you can win.
Gallery
Plants vs. Zombies Wiki
has a
gallery
for Magic Beanstalk.
Trivia
With 4 for the cost of 1, it is tied for the highest base strength-per-cost ratio of any card that does not cost 0 in the game, alongside Haunted Pumpking.
See also