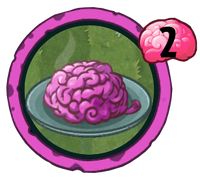 Lurch for Lunch

Statistics
Strength
Health
Cost
-
-
2
Set
Basic
Rarity
Common
Class
Tribe
Gourmet Trick
Abilities
A Zombie does a Bonus Attack.
Will work overtime for food.
Lurch For Lunch is a basic common zombie trick card in Plants vs. Zombies Heroes, and a member of the

Brainy class. It costs 2

to play, and its ability makes a selected zombie do a bonus attack. Its plant counterpart is Plant Food.
Statistics
Class: Brainy
Tribe: Gourmet Trick
Ability: A Zombie does a Bonus Attack.
Set - Rarity: Basic - Common
Card description
Will work overtime for food.
Update history
Update 1.2.11
Rarity change: Uncommon → Common
Update 1.6.27
Design change: The brain is now more detailed and on a plate.
Strategies
With
This trick should be used on either zombies with high strength or zombies that can directly attack the plant hero, preferably both. This trick can also be used to destroy a powerful plant with low health. Note that when you use this trick on a Paparazzi Zombie, he will attack before gaining strength from the trick.
Using this with Nurse Gargantuar works if your hero is in need of healing.
Alternatively, this can be used effectively on zombies with attacking traits.
Bullseye zombies like Mountain Climber and Pool Shark do not charge the plant hero's Super-Block Meter, allowing for "free" damage on the plant hero,
Strikethrough zombies like Hot Dog Imp and Zombot Plank Walker can destroy a whole row on plants and bypass Team-Up plants as well as dealing damage to the plant hero,

Deadly zombies can destroy a powerful plant early,

Frenzy zombies can tear through a row of plants and damage the plant hero without being hurt, and

Anti-Hero zombies can take out a weak enough plant on its way to deal an extremely high chunk of damage to the opposite hero on the "Fight!" phase.
This can also be used to thaw out a

Frozen zombie.
Against
There is nothing you can do if this trick is used. However, Brainana can prevent the usage of this trick while Black-Eyed Pea and Sportacus can help deter Brainy heroes from using this trick. Just remember that if the bonus attack is what finishes them off, the two plants won't activate their ability. Also, for Black-Eyed Pea, the opponent may be purposefully playing it to destroy it with Rocket Science.
Gallery
Old
See also
Ad blocker interference detected!
Wikia is a free-to-use site that makes money from advertising. We have a modified experience for viewers using ad blockers

Wikia is not accessible if you've made further modifications. Remove the custom ad blocker rule(s) and the page will load as expected.