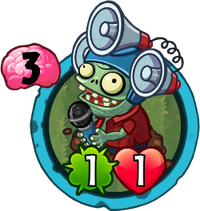 Not to be confused with Loudmouth Bot.
Loudmouth

Statistics
Strength
Health
Cost
1
1
3
Set
Basic
Rarity
Common
Class
Tribe
Imp Zombie
Traits
Gravestone
Abilities
When revealed: A Zombie gets +2/+2.
What he lacks in size, he makes up for in volume.
Loudmouth is a basic common zombie card in Plants vs. Zombies Heroes, and a member of the

Beastly class. He costs 3

to play, and has 1
/1

. He has the Gravestone trait. When revealed, his ability gives a selected zombie, including him +2
/+2

. His plant counterpart is Grow-Shroom.
Origins
The word "loudmouth" means someone who tends to talk too much in an offensive or tactless way.
Statistics
Class: Beastly
Tribe: Imp Zombie
Trait: Gravestone
Ability: When revealed: A Zombie gets +2/+2.
Set - Rarity: Basic - Common
Card description
What he lacks in size, he makes up for in volume.
Strategies
With
Consider this as the zombie equivalent of Grow-Shroom. However, unlike Grow-Shroom, he can power himself up, being quite a tough 3-brain cost zombie if the player wishes to buff him. But in exchange, Loudmouth has 1 strength instead of 2 so it may be hard to destroy some plants that even has 2 health. Since he hides in a Gravestone, plant tricks cannot harm him, with the exception of Grave Buster. Also, since this is an Imp, the player can use Imp Commander and Toxic Waste Imp with him as well, but only if the player is Brain Freeze.
However, if he is destroyed via Grave Buster, he will destroy himself before he can boost anything, so beware if facing against a

Guardian hero.
While this zombie has extremely weak stats for 3

, at 1
/1

, he can be used to buff zombies to the point that they can be nearly immortal.
Against
This zombie is mostly used to boost another zombie, so he is pretty easy to counter. Most plants will be able to defeat this unboosted. However, if player decides that this zombie should boost himself, it will make him quite dangerous, and you can't do anything about him in the same turn, so you will have to wait and use a plant to defeat him in the next turn. Most players would use him to boost a zombie that needs that boost to destroy a plant, so put plants with the Team-Up trait to defend the plant being threatened. If you are fighting a Beastly hero, and they play a Gravestone while they have a zombie with good attributes or a useful ability on the field, it is almost certainly a Loudmouth inside.
Gallery
Old
Trivia
The word "volume" in his description has a double meaning. The first means "the amount of space something occupies," which is ironic due to Loudmouth being an Imp. The second means "the quantity or power of sound," referencing his megaphone, special ability and name.
The description references the fact that though Loudmouth has extremely weak stats for 3, his ability makes him up for his stats.
Ad blocker interference detected!
Wikia is a free-to-use site that makes money from advertising. We have a modified experience for viewers using ad blockers

Wikia is not accessible if you've made further modifications. Remove the custom ad blocker rule(s) and the page will load as expected.