For the Chinese version of the level, see Lost City - Ultimate Challenge.
Lost City - Day 32 is the thirty-second level of Lost City in Plants vs. Zombies 2. In this level, the player must defeat the Zombot Aerostatic Gondola. When this level is finished for the first time, the player earns the Lost City Trophy.
Strategies
Gallery
Trivia
Only one Stallia is given at a time.
It is the only Zomboss battle that has no lawn mowers. This is because the boulder trap tiles can be used as alternatives to the lawn mowers.
It is the second Zomboss battle which includes special tiles, with the first being Far Future - Day 25, the third being the Zombot Tomorrow-tron fight in Modern Day - Day 33, and the fourth being the Zombot Aerostatic Gondola fight in Modern Day - Day 34.
It is the fourth Zomboss battle with a plant that is not obtained in that world (Bonk Choy), with the first being Ancient Egypt - Day 25 (Wall-nut), the second being Dark Ages - Night 20 (Kernel-pult), the third being Frostbite Caves - Day 30 (Threepeater), the fifth being Neon Mixtape Tour - Day 32 (Stunion), and the sixth being Jurassic Marsh - Day 32 (Bonk Choy and Chard Guard).
Unlike the other Trap Tile levels, in this level, it takes longer time for a boulder tile to be triggered again once it has been activated.
If the Zombot Areostatic Gondola lands on a Endurian when it's defeated, the Endurian will continue to damage it.
Walkthrough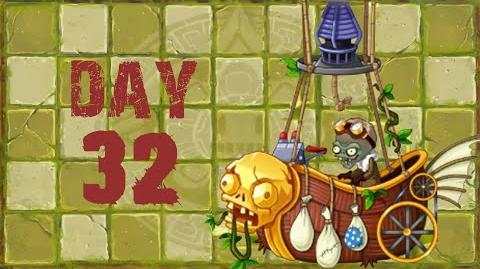 Ad blocker interference detected!
Wikia is a free-to-use site that makes money from advertising. We have a modified experience for viewers using ad blockers

Wikia is not accessible if you've made further modifications. Remove the custom ad blocker rule(s) and the page will load as expected.