This subject currently has no proper strategy associated with it. If you have figured out a good strategy, please
add it
or the zombies will eat your brains!
Lost City - Day 27 is the twenty-seventh level of Lost City in Plants vs. Zombies 2. Turquoise Skull Zombie makes his first appearance here. There are three Gold Tiles in this level; one in the fourth column, and two in the seventh. After completing this level, the player receives a money bag.
Waves
The small number next to the zombie icon means that zombie will always appear in that lane, with 1 being the topmost lane and 5 being the bottommost one.
| Waves | Non-dynamic zombies | Ambush zombies | Note(s) |
| --- | --- | --- | --- |
| 1 | | None | |
| 2 | 5 | None | |
| 3 | 5 | None | |
| 4 | 2 2 4 4 3 1 | | First flag; Parachute Rain! |
| 5 | 1 5 3 | None | |
| 6 | 1 2 4 3 | None | |
| 7 | 5 5 1 3 | None | 100% Plant Food |
| 8 | 3 2 4 1 5 | | Second flag; Parachute Rain! |
| 9 | 1 5 3 | None | |
| 10 | 3 1 4 5 1 2 5 3 | None | |
| 11 | 2 4 1 5 1 5 | None | 100% Plant Food |
| 12 | 3 1 2 4 5 3 2 4 1 1 2 3 4 5 5 | | Final flag; Parachute Rain! |
Gallery
Walkthrough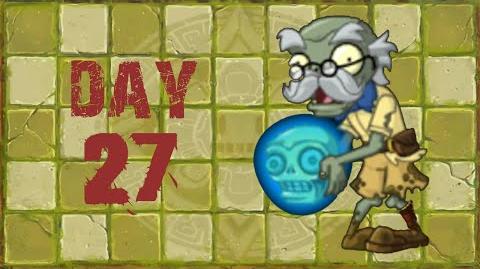 *: Removed