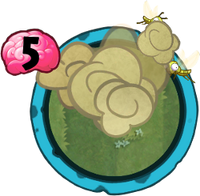 Locust Swarm is a basic common zombie trick card in Plants vs. Zombies Heroes, and a member of the

Beastly class. It costs 5

to play, and its ability destroys a selected plant on the field. Its plant counterpart is Squash.
Origins
It is based on a swarm of locusts, species of short-horned grasshoppers in the family Acrididae which possess both a solitary phase and a swarming phase.
Its description is a reference to how locust swarms are a major threat to plants. It might also reference the fact that the collective noun for locusts is "a plague," and that one of the Ten Plagues of Egypt was a plague of locusts. It may also be a reference to Mercutio's last words in Romeo and Juliet: "A plague upon both your houses!"
Statistics
Class: Beastly
Tribe: Pet Trick
Ability: Destroy a Plant.
Set - Rarity: Basic - Common
Card description
A plague upon your lawns!
Update history
Update 1.2.11
Description change: Was originally A plague. That'll show 'em!
Strategies
With
Use it how you would when using any instant-kill tricks like Rocket Science or Cut Down to Size, since their abilities are very similar. However, since unlike the two aforementioned tricks, this has the ability to destroy any plant fighter, so you may destroy threats that would gain stats over periods of turns, such as Pea Pod or Doubled Mint early, without needing the two to gain strength to be destroyed. Alternatively, you may reduce another plant's strength as much as you need to while waiting for this trick to be given to your hand in order to destroy it, since it has no restrictions.

Armored plants like Soul Patch or Tough Beets are primary targets for this trick, due to their trait. You can even destroy plants that cannot be hurt via Peel Shield, Root Wall or Force Field.
Locust Swarm is also a pet trick, so if there is a Zookeeper or Cat Lady on the board and you still saved 5 brains, you can destroy a plant, while boosting your pets.
Against
Most Beastly heroes would bring Locust Swarm to destroy any strong plant, so pay attention to the brain counter. If you see that the zombie hero saved at least 5 brains, then there is a high chance that Locust Swarm may be played. Also be careful if there are gravestones, as it may trick you because either Locust Swarm is played or a strong zombie will be revealed. Beastly has the least Gravestone zombies in the whole game, so it is good to pay attention to the brain counter. In that case, try to play smaller plants or play no plants at all. You should also be careful if there are pets on board, because Locust Swarm can also boost pet zombies with the abilities of Zookeeper and Cat Lady.
Gallery
Old
See also