Ad blocker interference detected!
Wikia is a free-to-use site that makes money from advertising. We have a modified experience for viewers using ad blockers

Wikia is not accessible if you've made further modifications. Remove the custom ad blocker rule(s) and the page will load as expected.

"

CANNON FIGHT!!!

"

—Crazy Dave
Locked and Loaded II is the second Locked and Loaded level of Pirate Seas in the Chinese version of Plants vs. Zombies 2. When this level is finished for the first time, the player gets a star.
Dialogue
(Crazy Dave appears)
Crazy Dave: CANNON FIGHT!!!
(Crazy Dave leaves)
Difficulty
Strategy
Do what you need first. (Plant Sunflowers, plant Spring Beans as your plant protector, plant Wall-nuts on dangerous places, using Iceberg Lettuce when you're in danger, etc.)
Plant Coconut Cannons immediately when you have enough sun. Five Coconut Cannons are needed (You might want to use Plant Food to Sunflower or Wall-nut to do this). It's nice to fire Coconut Cannons when there are a lot of zombies.
The great combo (Swashbuckler Zombie + Seagull Zombie + Imp Cannon + Pirate Captain Zombie) is now appear as your biggest threat, since they can pass your Wall-nuts easily (so you should use Plant Food to some of the Wall-nuts).
You can earn a lot of Plant Foods in this level so don't forget to use it.
Gallery
Walkthroughs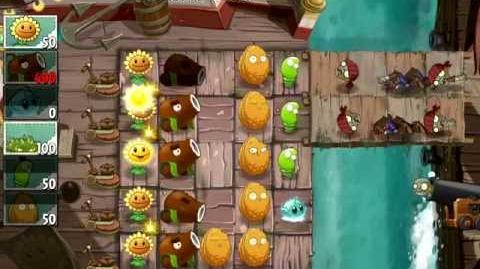 * A gate can be unlocked with a key after completing this level
^ Conjectural name