Ad blocker interference detected!
Wikia is a free-to-use site that makes money from advertising. We have a modified experience for viewers using ad blockers

Wikia is not accessible if you've made further modifications. Remove the custom ad blocker rule(s) and the page will load as expected.

"

The family that catapults together...

"
Locked and Loaded III is the third Locked and Loaded level of Ancient Egypt in the Chinese version of Plants vs. Zombies 2. This level is identical to the third Locked and Loaded level in Ancient Egypt in the international version (pre-1.7), or the current Ancient Egypt - Day 21. When this level is finished for the first time, the player gets a star and an upgrade called Plant Food Boost.
Dialogue
(Penny appears)
Penny: The family that catapults together...
(Crazy Dave appears)
Crazy Dave: Are friends indeed.
(Crazy Dave and Penny leaves)
Difficulty
Tombstones are not much of a threat other than blocking a whole space for planting, but they are really a big problem when Tomb Raiser Zombies appear.
Even though the Twin Sunflower is not given yet, the player can use it and try planting them.
The presence of catapult plants will make a great battle in this level.
Strategies
One column of Twin Sunflowers is needed.
Collect the sun and plant Iceberg Lettuces to delay the zombies for planting.
Plant one column of Kernel-pults, then one column of Melon-pults.
Use Plant Food on Melon-pults when the final wave comes.
Cabbage-pults and Wall-nuts are useless in this level because of Cabbage-pults' lack of firepower and Wall-nuts' recharge speed. But you can use them when you are in danger.
Gallery
Walkthroughs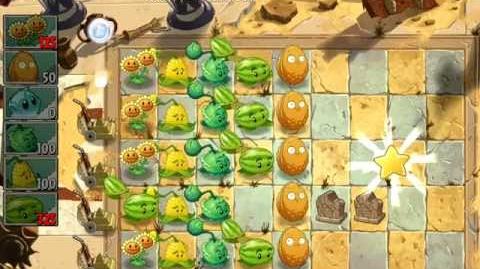 * A gate can be unlocked with a key after completing this level
^ Conjectural name