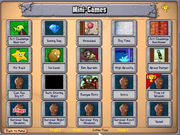 The Limbo Page is a hidden amount of data in the PC version of Plants vs. Zombies that contains ten mini-games, along with four variations on Survival: Endless that were going to be added to the game, but were eventually canceled. They also could be "hidden" for players to find out on their own and use a hacking program to access it. It is possible to access this page via third-party memory editing programs such as Cheat Engine and changing specific data values. All mini-games (with the notable exception of Ice Level) are completely playable.
Gaining access to The Limbo Page
Add three addresses and change all the value to 144.
For the original PC version
For the Game of the Year version
Address name
Type
Original value
Edited value
Address name
Type
Original value
Edited value
42DF5D
Byte
136
144
430C80
Byte
136
144
42DF5E
Byte
89
144
430C81
Byte
88
144
42DF5F
Byte
84
144
430C82
Byte
100
144
Another way
For the Game of the Year version
Open Cheat Engine.
Click "Memory view."
Search for address "00430C80."
Select "Replace with code that does nothing."
Done! Enjoy those canceled mini-games!
List of games
Trivia
Since the other game modes are shown on it and when another tab is clicked on it shows the three other pages, the Limbo Page may be a preliminary setup for the title page. However, the one that is known is now used.
The player must unlock mini-games on Level 3-2 before they can use the Limbo Page. If they have not reached that point in Adventure Mode, then the Limbo Page is inaccessible. This can be used to unlock Survival Mode and Puzzle Mode prematurely.
If there are any locked mini-games on the Mini-Games page, completing a game on the Limbo Page will not unlock the next locked mini-game from the Mini-Games page.
See also
†: That mini-game is not shown in Limbo page.
*: That mini-game is playable without needing to access the Limbo Page.