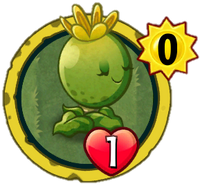 Lil' Buddy

Statistics
Strength
Health
Cost
-
1
1
Set
Token
Class
Tribe
Flower Seed Plant
Wait, you want me to go in *front*?!?
Lil' Buddy is a token plant card in Plants vs. Zombies Heroes, and a member of the

Guardian plants. It has 1

and costs 1
to play (which can only be the case if bounced). It can only appear by created from Poppin' Poppies or Cornucopia.
Statistics
Set: Token
Class: Guardian
Tribe: Flower Seed Plant
Effect: Team-Up
Card description
Wait, you want me to go in *front*?!?
Update history
Update 1.4.14
Tribe change: Flower Plant to Flower Seed Plant
Strategies
Due to its lack of any strength and its low health, Lil' Buddy serves its purpose as a weak shield against zombies, for it could save an expensive/valuable plant.
It can also be used with Spineapple to make this a one-time damager. Alternatively, it can be used as "cannon fodders" for Briar Rose to help destroy a powerful zombie. If they survive a turn, Power Flower can be used to heal the plant hero.
Gallery
Old
Trivia
Despite being called Lil' Buddy, it actually resembles a poppy fruit rather than a poppy bud.
It is one of the only two seed cards in the game. The other is Seedling.

Coincidentally, both have 0 strength and 1 health when played.

Its description references the fact that it has the Team-Up trait.
Its description is grammatically incorrect, as the description is a quote from Lil' Buddy, but has no quotation marks.
The attack it does is similar to the attack of Pair of Pears, which involves it firing seeds.
See also