Ad blocker interference detected!
Wikia is a free-to-use site that makes money from advertising. We have a modified experience for viewers using ad blockers

Wikia is not accessible if you've made further modifications. Remove the custom ad blocker rule(s) and the page will load as expected.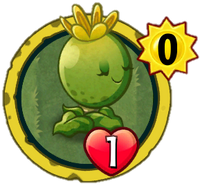 Lil' Buddy

Statistics
Strength
Health
Cost
-
1
1
Set
Token
Class
Tribe
Flower Seed Plant
Traits
Team-Up
Wait, you want me to go in *front*?!?
Lil' Buddy is a token plant card in Plants vs. Zombies Heroes, and a member of the

Guardian plants. It has 1

and costs 1
to play (which can only be the case if bounced). It can only be created by Poppin' Poppies, Cornucopia, Seedling, or Petal-Morphosis.
Statistics
Set: Token
Class: Guardian
Tribe: Flower Seed Plant
Trait: Team-Up
Card description
Wait, you want me to go in *front*?!?
Update history
Update 1.4.14
Tribe change: Flower Plant to Flower Seed Plant
Strategies
With
Due to its lack of any strength and its low health, Lil' Buddy serves its purpose as a weak shield against zombies, and it could save an expensive/valuable plant.
It can be used with Spineapple to make this a one-time damager. Alternatively, it can be used as "cannon fodders" for Briar Rose when it is used with Wall-Knight to help destroy a powerful zombie. If they survive a turn, Power Flower can be used to heal the plant hero.
Against
This plant will just block attacks. As long as it isn't boosted, any attack can destroy it. If you have zombies with the Frenzy or Strikethrough traits, using them will allow you to both destroy the Lil' Buddy and attack the plant hero.
Gallery
Old
Trivia
Despite being called Lil' Buddy, it actually resembles a poppy fruit rather than a poppy bud.
It is one of the only two seed cards in the game. The other is Seedling.

Coincidentally, both have 0 strength and 1 health when played.

Its description references the fact that it has the Team-Up trait.
Its description is grammatically incorrect, as the description is a quote from Lil' Buddy, but has no quotation marks.
The attack it does is similar to the attack from Pair of Pears, which involves it firing seeds.
See also