Level 3-2 is the twenty-second level in Plants vs. Zombies, Plants vs. Zombies: Journey to the West, and Plants vs. Zombies: Great Wall Edition, and it is the second Pool level. It is a regular level. When this level is finished for the first time, the player obtains the Threepeater.
Difficulty
Strategies
Required plants:
Like in the first pool level, plant Sunflowers first. Only worry about Lily Pads when the first Ducky Tube Zombie appears. For the first and second zombie that comes on the screen, plant Potato Mines to easily get rid of them.
Plant one or two Repeaters in the next lanes.
Before the first flag arrives, make sure that your grass lanes are stronger than your pool lanes. Thankfully, Football Zombies only spawn on land.
You may want to plant a row of Wall-nuts to shield your plants whenever a Football Zombie comes. Use the Squash only when you most need it, because it has a slow recharge rate.
Gallery
Walkthrough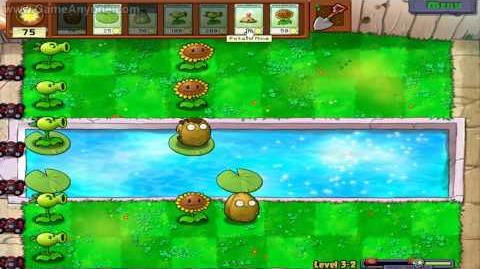 How would you rate Level 3-2's difficulty?