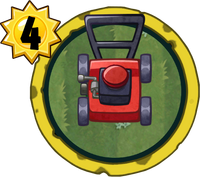 For the other versions, see Lawn Mower.
Lawnmower is a premium rare plant trick card in Plants vs. Zombies Heroes. and a member of the

Solar class. It costs 4

to play, and its ability instantly destroys a selected zombie, but only if it is in a ground lane.
Origins
It is based on the machine in real life with the same name.
Its description references its use in the Plants vs. Zombies series, where it can instantly kill all zombies in its lane as a last line of defense, including Gargantuars.
Statistics
Class: Solar
Tribe: Trick
Ability: Destroy a Zombie on the Ground.
Set - Rarity: Premium - Rare
Card description
The thing of Zombie nightmares.
Strategies
With
Lawnmower is a very useful card to have, being able to destroy any zombie regardless of stats. This trick can be used with, or replace Squash as well as costing 1 sun less for an instant-kill. However, unlike Squash, this trick can only be used on ground lanes, meaning zombies that are on heights or aquatic lanes are immune to this trick.
It is best to use this when there are less or no heights or aquatic lanes in the field, which can be useful on some plant missions.
If there are any dangerous zombies on the heights or aquatic lanes, Lawnmower can also be paired with either Banana Peel, Sweet Potato, Whipvine or Sweet Pea, which can move any dangerous zombies that are either on the heights or aquatic lane to a ground lane, where Lawnmower can destroy it. However, only Chompzilla can normally use these combos.
As of the Galactic Garden update, Lawnmower can now be used as a plan B to remove zombies in dangerous environments if you have no way of removing the environments themselves.
Against
Just to be safe, keep your most important zombies in the heights, or aquatic lanes whatever the plant hero can have 4 sun or more. Be careful against Chompzilla, however, who can use moving cards such as Sweet Potato to move your valuable zombies to ground lanes where they can be easily destroyed by this trick. They are also still vulnerable to instant-kill cards like Squash, so take notice on that too. If you rely on powerful zombies in zombie environments, be careful against Solar heroes, as they can use Lawnmower to destroy that zombie.
Gallery
Old
Trivia
Its use of not being in aquatic or height lanes is probably due to Pool Cleaners and Roof Cleaners, which replace Lawn Mowers in Pool, Fog, and Roof levels in Plants vs. Zombies.

It may also be that way due to Lawn Mowers not working properly in said levels.

Lawnmower can destroy even Zombots instantly such as Zombot Plank Walker, which does not happen in other Plants vs. Zombies games.